Soak up the festivities this Christmas as Queen Vic Market hosts a variety of festive fun! Stay tuned as there is plenty more to come…
Santa Visits
Santa will pull up his sleigh and visit the Market, roaming the historic sheds with his trusty elf friend to wish market-goers a happy Christmas. Bring the kids along to say hi and put in their final wish lists.
Thursday 21, Friday 22 and Saturday 23 December, 10am – 2pm
Sunday 24 December, 9.30 – 1pm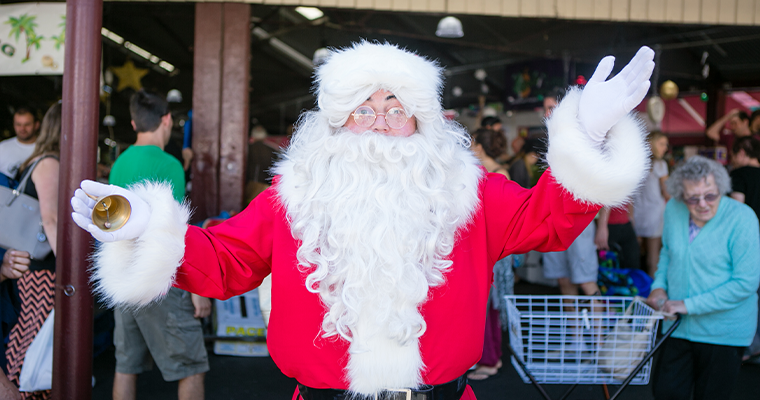 Christmas Entertainment 
In the weekends leading up to Christmas, our roving entertainment takes on a melodic twist with a musical ensemble that will serenade the Market sheds. Market shoppers will witness the arrival of playful and interactive Elves, adding a touch of magic. These whimsical characters will engage with visitors in a captivating 'mime' format, weaving a visual spectacle that transcends the ordinary. The interactive and theatrical component introduced by the Elves promises to elevate the festive spirit, creating memorable moments for attendees of all ages.
Saturday 9, Sunday 10, Friday 15, Saturday 16, Sunday 17, Friday 22, Saturday 23, Sunday 24 December 
Summer Night Market 
Grab your family and friends and get down to the Market for an unforgettable night of shopping, eating, drinking, live music, fun and summer sunset vibes.
Each week, the Market will burst to life with delicious street food, shopping, refreshing cocktails and mocktails. Plus enjoy the sounds of live music and roving entertainment while soaking up the summer atmosphere. Santa will be making a special visit and roving the night market on the 20 December from 5pm – 9pm.
Wednesday nights from 22 November until 13 March (excluding 27 December), 5pm-10pm. Click here for more information.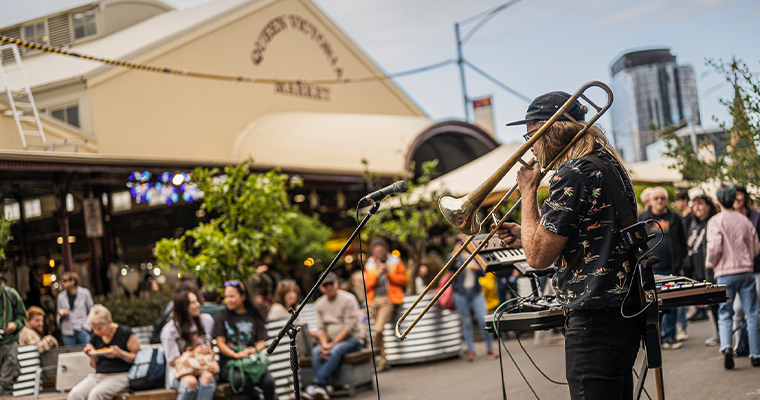 Mystery Night – Holiday Edition 
Join Mary Martin on the evening of Tuesday 5th December and enjoy a festive night with a mystery author, their mystery book, an excellent glass of wine and lots of holiday atmosphere.
This is a book we love, and believe you will too. As you sip your drink, listen to the author do a reading, followed by a discussion on why they wrote it and why we think you will enjoy it. Towards the end of our soiree you will have the chance to chat to the author and have your book personally signed.
For more information, please visit their website here.
5 December, 6:15 – 7:30pm, Mary Martin Bookshop, String Bean Alley
Pasko Sa Melbourne – Christmas in our Hearts 
Experience the magic of Pasko Sa Melbourne, a celebration of all things festive! Drawing in Filipino and other ethnic communities together, offering an array of Filipino food, Parol (lantern) making, captivating multi-cultural shows and performances, Christmas carols and much more!
Click here to find out more.
5 December, 3pm – 9pm, C&D Sheds
Queen Vintage Market
Step into a world of timeless treasures as Queen Vic Market hosts the very first Queen Vintage. Discover a curated collection of vintage fashion, wander through stalls brimming with nostalgia, music, cocktails and delicious food. Find your own piece of history at Queen Vintage, where every item has a story to tell. More information on stallholders can be viewed  here.  
9 December, 9am – 4pm, C & D Sheds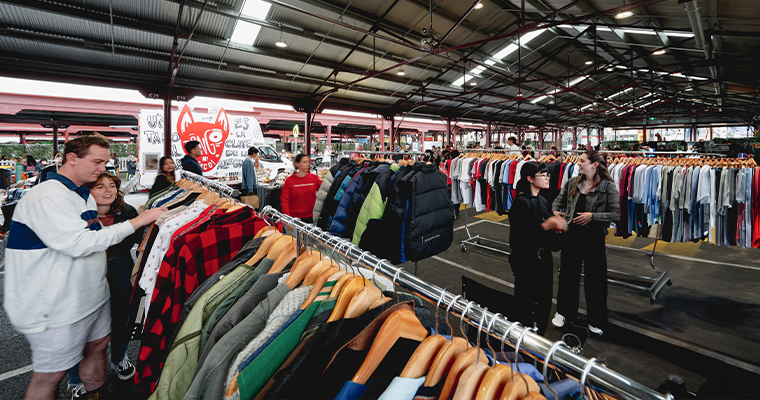 Decorate Mary Martin's Christmas Tree
From Friday 1 December, Mary Martin will have a Christmas Tree painted on their glass window.  Kids (and adults) will be invited to decorate a paper bauble to stick that on the tree.  Blank paper baubles and color pencils/crayons/glitter will be provided on a craft table.
From Friday 1 December, Mary Martin Bookshop, String Bean Alley, Free Event 
Magic of Ambiance's Custom Christmas Creations