Wednesday, 19th April 2023
Mother's Day Gift Ideas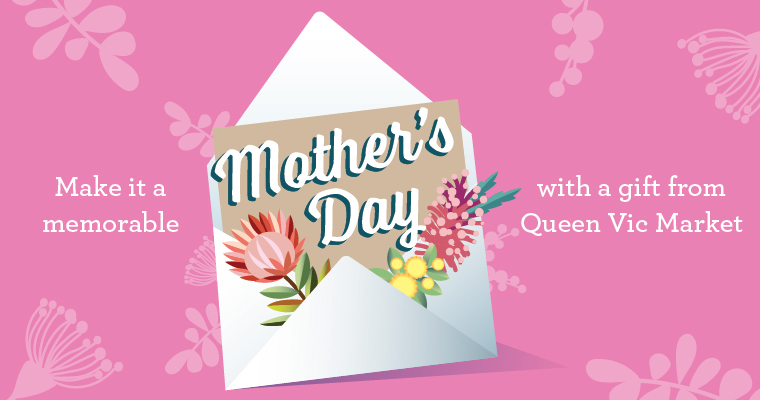 What better way to show mum your appreciation than with a gift from Queen Victoria Market. Whether she's a foodie or fashionista – we've got the best gifts to make Mother's Day a memorable one. Now, let's dive into some top picks!
Koko Black – Four Pillars Gin x Koko Black Collection
Treat mum to a tantilising box of delicious gin infused praline. The collection includes 16 handcrafted pralines drenched with the classic warmth of Four Pillars Rare Dry Gin, the herbaceous notes of Olive Leaf Gin, the tangy flavours of Fresh Yuzu Gin and deep notes of Bloody Shiraz Gin.
Find Koko Black at the Dairy Produce Hall, Shop 71-72.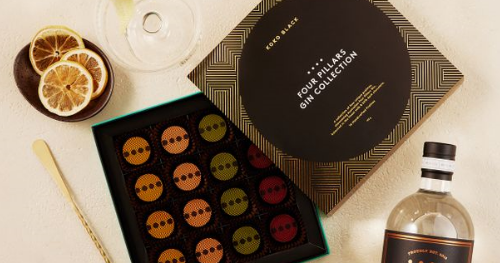 Woodcrafts Australia – Quality Wooden Boards
A decent cutting board is a blessed kitchen item for which your mum will quietly thank you every day. Woodcrafts Australia offer an impressive range of Australian-made hardwood cutting boards in all shapes and sizes.
Find Woodcrafts Australia in Queen Street, Stall 24-25.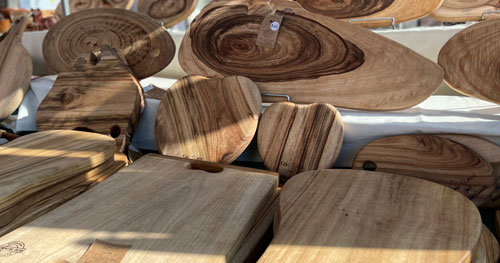 Ferguson Plarre Bakehouse – High Tea at Home
Give mum the gift of a high tea experience in the comfort of her own home with Ferguson Plarre. Choose from either their Deluxe High Tea, or their Classic High Tea, and enjoy an array of decadent sweet treats including lemon slice, caramel brownie slice, strawberry vanilla cupcakes, as well as a beautiful high tea stand to display them on.
Find Ferguson Plarre Bakehouse at the Dairy Produce Hall, Shop 77-80.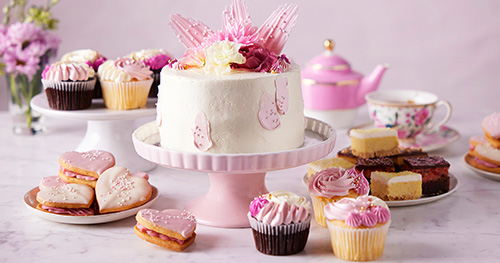 Gewurzhaus Herb & Spice Merchants – Moment Pack
Let mum unwind with a delightful tea and treat pack from Gewurzhaus. Choose between two different packs: the Cosy Moment Pack, which includes Raj's whole Chai tea, chocolate moment cookies and tea strainer; or the Blissful Moment Pack, featuring Moroccan mint tea, apple cake spice shortbread and tea strainer.
Find Gewurzhaus Herb & Spice Merchants at the Dairy Produce Hall, Shop 7-9.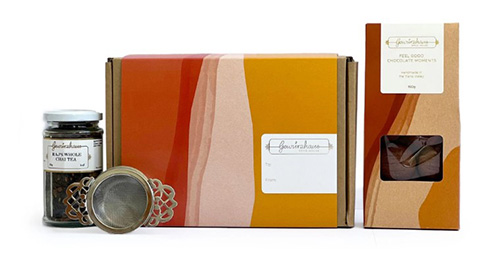 Parlour – First Rose Candle & Diffuser
Spoil mum with a luxurious home scent from Parlour that will help create the perfect serene ambiance. The First Rose candle and diffuser has fragrance notes of Moroccan rose tea, black currant, rose damask, pink peony and wild raspberry.
Find Parlour at 111-113 Victoria Street.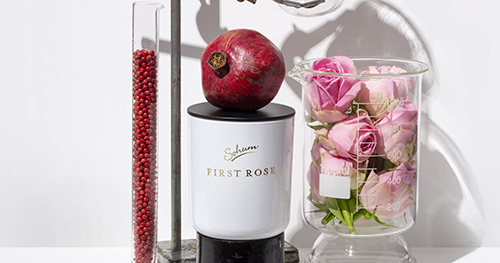 American Doughnut Kitchen – Rasp-Plum Jam Gift Box.
Gift a little piece of the the Market's famous American Doughnut Kitchen with a jar of their Rasp-Plum Jam. Slather it on toast or a scone for the perfect Mother's Day breakfast!
Find American Doughnut Kitchen on Queen Street, in front of the Information Hub.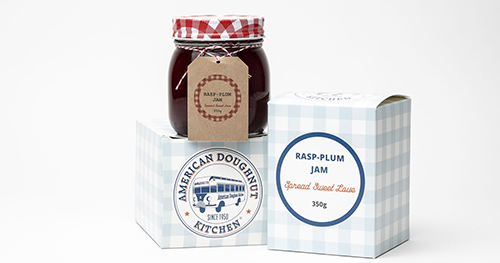 Pebble & Poppet – Women's Fashion, Melbourne Collection
For stylish mums and bubs alike, look no further than this adorable t-shirt set illustrated by artist Christie Williams and made in Melbourne by Pebble and Poppet. The whimsical design pays homage to local landmarks and Aussie animals, making it the perfect print to match with the little ones.
Find Pebble & Poppet at String Bean Alley, Container 17.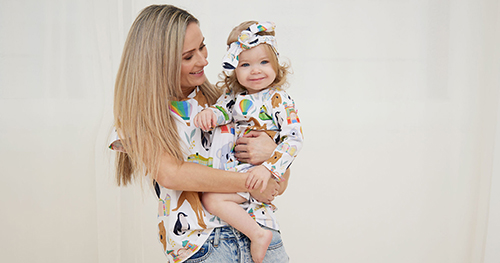 Tribal Taste – Spice Queen Collection
The Spice Queen Collection is ideal for any foodie mum who loves to add a good whack of spice and flavour to their cooking. Comprised of the fiery heat of Ethiopian Berbere, the warm earthy notes of Ras El Hanout, and the ever-popular Royal Curry – adding richness and flavour has never been easier!
Find Tribal Taste at the Dairy Produce Hall, Shop 83.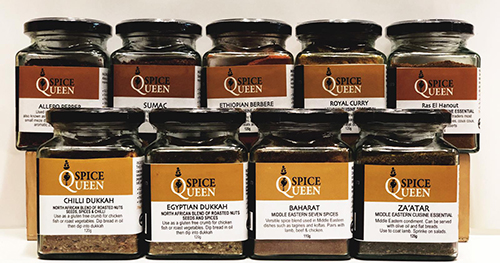 Kadio Designs – Handmade Polymer Clay Earrings
Treat mum to a bold and funky set of earrings that are sure to compliment any outfit. Each earring is carefully handcrafted, one-of-a-kind, non-allergenic, gold or silver plated and waterproof, making them the perfect everyday staple that mum is sure to love.
Find Kadio Designs at Rear of K Shed, Stall 56.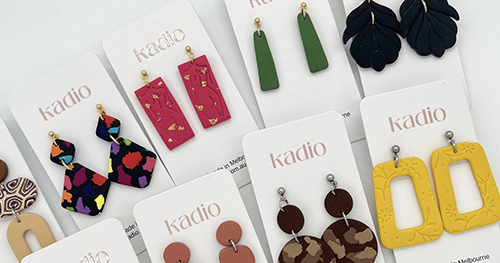 Live in Art – Bag Gift Set
Gift mum a unique bag set, comprising of a tote bag and bag organiser – whether mum is travelling, grocery shopping, or in need of a new stylish everyday bag, Live in Art has got you covered!
Find Live in Art at String Bean Alley, Container 9.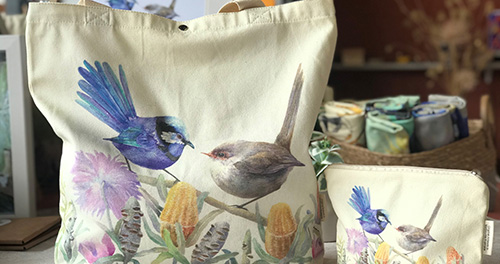 Joe Leuzzi Flowers – Bouquet of Flowers
A bouquet of flowers always does the trick! At Joe Leuzzi Flowers , you'll find a variety of seasonal blooms to choose from – pick up some loose stems, arrange your own, or buy a ready–made bunch.
Find Joe Leuzzi Flower Shop on Therry Street, Shop 90.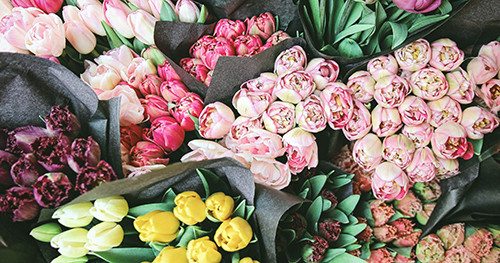 McIver's Tea & Coffee Merchant – Tea Pots & Coffeware
How many chats have been had over a pot of tea with mum? The team at McIver's will help you find the perfect teapot from their extensive range. Don't worry, if your mum prefers coffee, there's an equally impressive range of coffeeware to choose from.
Find McIver's at Shop 101-102 in the Dairy Produce Hall.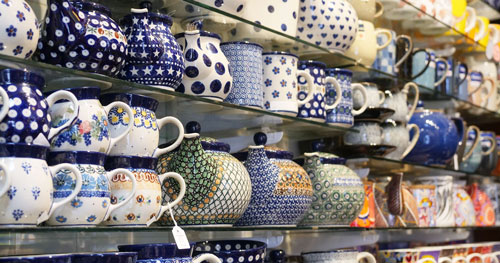 Aussie Hats by Portable Shade Co – Cloche Hat
The cloche hat from Aussie Hats is the accessory every mum needs as we move into the cooler seasons. Both stylish and sophisticated, it features a bell-shaped fit, an adjustable brim and comes in an array of colours.
Find Aussie Hats by Portable Shade Co at L Shed, Stall 83-84.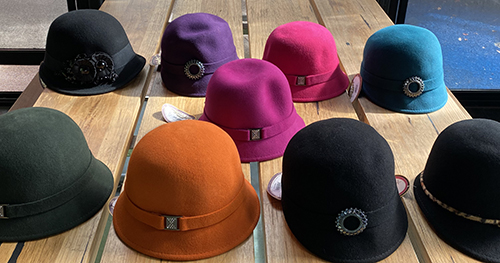 Ultimate Foodie Tour – 2-for-1 Ultimate Foodie Tour Gift Cards
Take mum on a two-hour foodie experience on the Ultimate Foodie Tour. On the tour mum will enjoy generous tastings of market fresh produce, learn tips and tricks for cooking and shopping at the Market, and learn about the Market's rick history.
Use the booking code 'LOVEYOURMUM23' for a special 2-for-1 offer on the Ultimate Foodie Tour Gift Cards. Click here to book now!