Wednesday, 1st August 2018
Apple Strudel by Gewurzhaus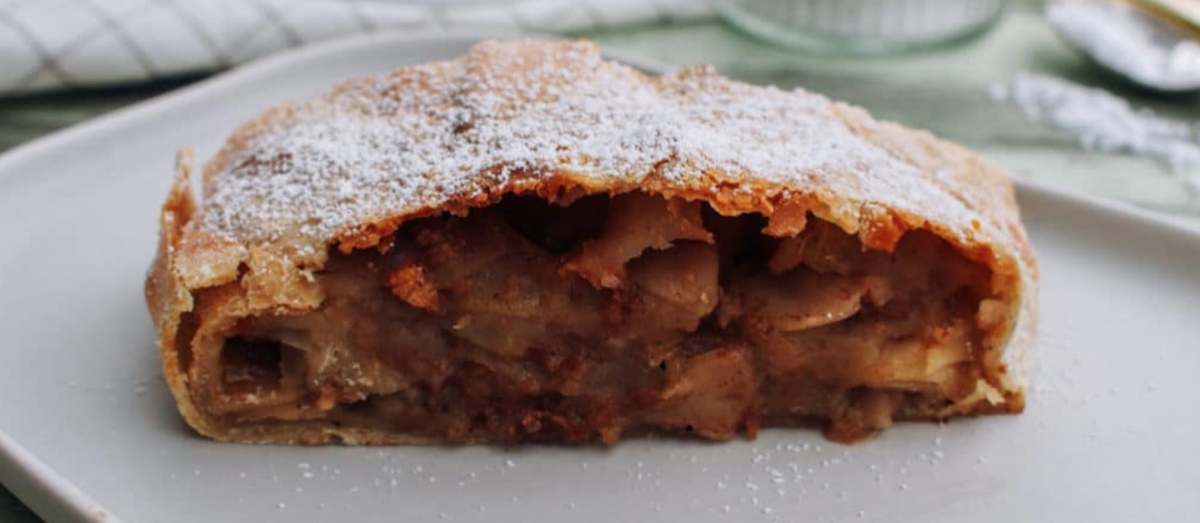 Ingredients
Dough
250g flour
¼ tsp salt
1 egg, free range, beaten
100ml water, lukewarm
20ml vegetable oil
Filling
100g breadcrumbs
50g butter
140g caster sugar
10g Gewürzhaus Apple Cake Spice
100g sultanas
20ml apple juice
50g almonds, flaked (optional)
10ml lemon juice
8 Granny Smith apples
100g butter, melted (extra) for coating pastry sheets
50g icing sugar, for decoration
Directions
1. Combine all dough ingredients in a mixing bowl and work with your hands until a ball forms. Knead on a clean, floured surface for 6-7 min. until you have a soft but smooth elastic dough. This can also be made in a stand mixer with a dough hook.
2. Shape dough into a ball, coat with 1 tsp oil and put on a plate. Cover with a clean tea towel and let dough rest in a warm place for 1 hour.
3. In the meantime, prepare the strudel filling by melting the butter in a pan, adding the breadcrumbs and roasting until golden brown. Peel, core and quarter the apples, then cut each quarter into thin slices. Toss them with lemon juice, the sugar and spice, then add the sultanas, almonds (optional) and the apple juice; lastly, add the breadcrumbs.
4. Preheat oven to 190°C. Cover a baking tray with baking paper and melt the extra butter.
5.cOn a kitchen bench that has been well dusted with flour, roll out the dough into a rectangular shape. Using the backs of your hands (to prevent the dough from tearing), stretch the dough into a larger rectangle until it is very thin. Brush the rolled and stretched dough with melted butter.
6. With the wider side of the pastry facing you, carefully distribute the apple filling close to the edge – roughly about 1/3 into the dough. Make sure the edge is well buttered, then roll up the pastry into a fat log, away from you, keeping the filling in place as you roll and folding the edge in to seal it inside. Slide it onto the baking tray. Brush the outside of the pastry with melted butter and bake for 30 min. or until it is crisp and golden.
7. Dust with icing sugar when cooled down or serve still warm with your favourite ice cream or cream.
Tip: A good alternative to using homemade strudel dough is store-bought chilled or frozen filo pastry.