Monday, 9th October 2017
Chocolate Cake with Chocolate Ganache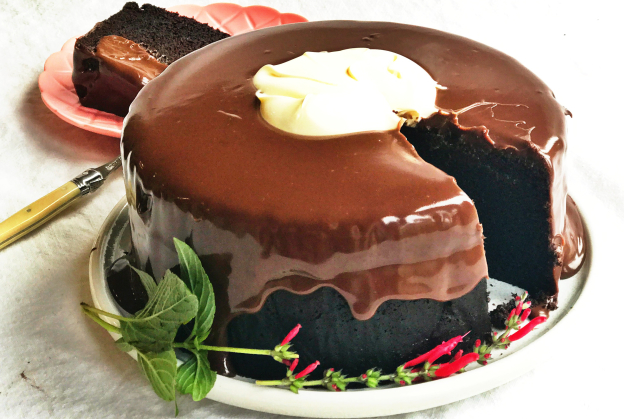 Ingredients
465ml water
360g butter
180g dark chocolate (I used 60 percent Callebaut)
510g sugar
380g plain flour
45g cocoa
18g bicarb soda
225g eggs (about 6)
50ml cherry brandy
1 teaspoon of salt

Ganache Ingredients
300ml whipping cream
300g dark or milk couverture chocolate, chopped
Cake Directions
Preheat oven to 150 degrees Celsius.
Grease and line a deep 20cm cake tin.
Melt water and butter together and bring to the boil. Remove from the heat.
Add the chocolate and sugar, mix well ensuring all of the chocolate has melted
Sift in the flour, bicarb, and cocoa.
Mix in the eggs and cherry brandy and pinch of salt.
Pour into prepared tins and bake for 1.5 hours or until skewer comes out clean.
Cool cake completely in tins.
Ganache Directions
Heat the cream over a medium heat in a saucepan to an almost simmer. Turn the heat off. Gradually stir in the chocolate and keep stirring until there are no lumps and the ganache is smooth and glossy.
Assemble:
Remove cake from the tin and trim off the tops if required.
Using a palette knife, smear a good amount of ganache on the top of the cake, and using gravity, let the ganache drizzle down the sides. If the ganache is thicker, smear it around the sides with your palette knife.
Serve with raspberries and dollops of thick double cream.
Find everything you need to create your own Chocolate Cake with Chocolate Ganache at the following Queen Vic Market traders.
M & G Caifa (Dairy Hall): all flour and chocolate ingredients
The Eggporium (I Shed): Eggs
Curds and Whey (Dairy Hall): Cream
I Shed Traders: Raspberries (when they are in season)
To see more of Emma's winter recipes, click here.