Tuesday, 20th November 2018
Couscous Salad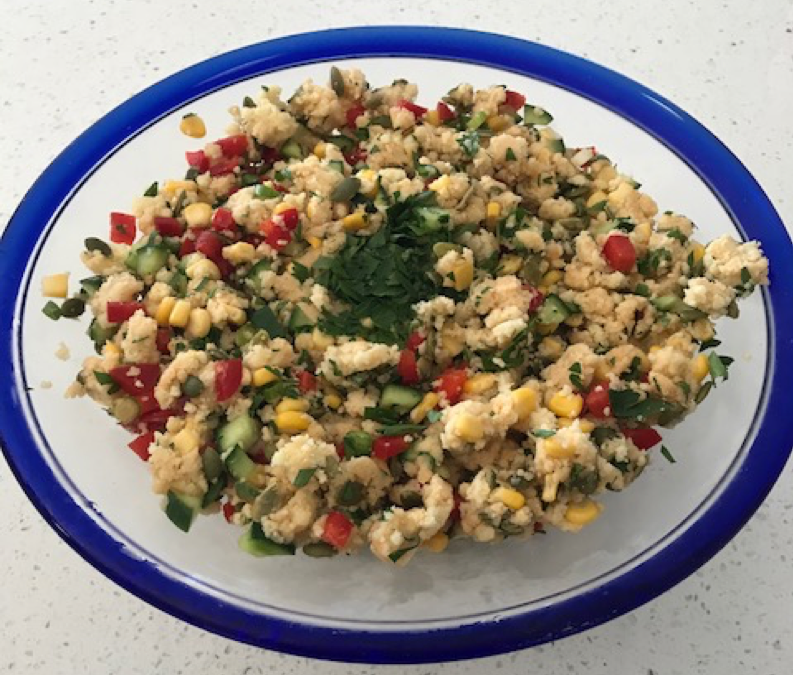 A delicious couscous salad recipe that is the perfect accompaniment to your barbecue. This recipe is from the Bongiorno Brothers in B Shed.
Ingredients
200g couscous
280ml vegetable Stock
1 Lebanese cucumber, deseeded and chopped
1 red capsicum, chopped
4 spring onions, thinly sliced
1 Corn cob, kernels removed
¼ cup parsley, chopped
80g pepitas
2 lemons, juiced
¼ cup olive oil
Salt and pepper
1tbs chopped parsley, extra
Directions
1. Heat vegetable stock in pot until just boiling.  Place couscous in medium bowl and cover with hot stock.  Leave for 5 minutes, then scrape couscous with fork until separated and fluffy.
2. Wrap corn cob in cling wrap tightly and microwave for 2 minutes.  Cool slightly and remove and set aside kernels from cob.
3. Slice Lebanese cucumber longways, remove and discard seeds with spoon and chop.
4. Remove centre of capsicum and chop and thinly slice spring onions.
5. In a large bowl, combine, couscous, cucumber, capsicum, spring onions, corn kernels, pepitas and chopped parsley and mix gently.
6. Combine juice of lemons, olive oil and salt and pepper in jug. Pour over couscous and toss to combine.
Garnish your couscous salad with extra chopped parsley and serve.