Sunday, 28th February 2021
DIY Easter Hot Cross Buns with Gewürzhaus Spice Mix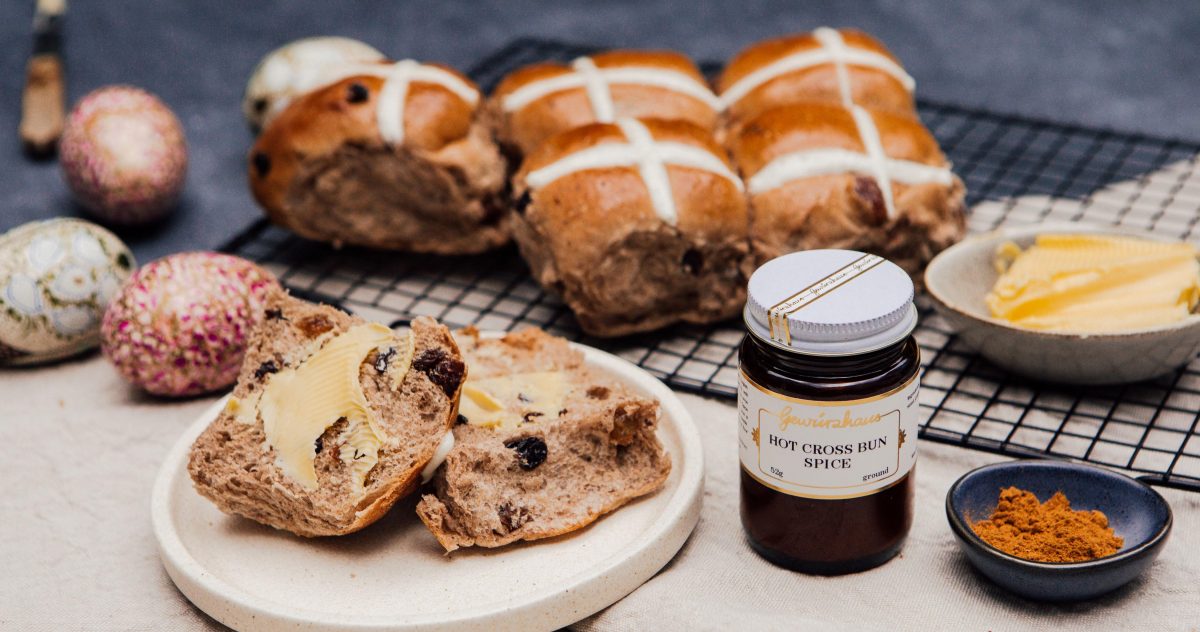 Nothing says Easter like traditional Hot Cross Buns! Have a go at baking your own with the delicious spice mix courtesy of our friends at Gewürzhaus Herb & Spice Merchants.
Share your creations with us on Instagram by tagging us at @vicmarket.
Ingredients 
500g baker's flour (or plain flour)
1 tsp salt
75g  sugar
1 satchel dry yeast (7g)
300ml full cream milk
70g butter
1 large egg, beaten
200g currants or mixed fruit
For the Crosses
4 tbsp self raising flour
4 tbsp cold water
yellow and/or red food colouring (optional)
For the Glaze
75ml water
2 slithers of orange peel (remove any white pith from the peel)
Directions
In a small saucepan, heat the milk over a low flame, add the butter and orange peel. Once the butter has melted, take off heat and let it cool to room temperature.
Sift the flour into a large mixing bowl. Add the HCB spice, salt and sugar, and mix through.
Make a well in the dry ingredients and add the milk mixture and then the yeast. Add the beaten egg and mix well, working from the inside out, slowly incorporating the dry ingredients to form a dough. Add in the dried fruit.
Turn out onto a lightly floured surface and knead vigorously until the dough becomes smooth and not sticky anymore, around 15 minutes. You may need to slightly adjust the mixture if it is too dry/wet with milk/flour. To test if the dough is ready, take a small piece and roll it into a ball, then stretch it out gently with your fingers. The dough should stretch without tearing and you should be able to stretch it until it forms a thin, translucent film, without having any thick spots or tears.
Place in a lightly buttered bowl and cover with a tea towel. Place in a warm area to rise. Leave for one hour or until double in size.
Turn out and punch down to remove the air. Cut into 16 equal portions, the roll out and shape each portion into a tight ball.
Place balls close together onto a baking tray, lined with baking paper. Cover with a tea towel and let rise for a further hour.
In the meantime, make the mixture for the crosses. Mix flour and water into a smooth, thick paste (the consistency should be that of thick honey). You can lightly colour the mixture, creating pretty pastel yellow or pink stripes (or a combination), which look lovely. If doing both colours, split the mixture before colouring and add 1 drop of food colour per half. At this stage, preheat the oven to 220°C. Place the mixture for your crosses into a zip lock bag, cut a very small hole out of a corner and pipe onto the buns.
Bake for 15-20 minutes or until the buns are browning on top.
While the buns are baking, make the glaze by adding ingredients to a small pot, bring to the boil and simmer until the syrup thickens (110 +/- degrees if you are using a candy thermometer). Lightly brush this over the hot cross buns while still piping hot, to give them their sheen.
Best served warm with a bit of butter!