Tuesday, 21st September 2021
Game Day Sausage Rolls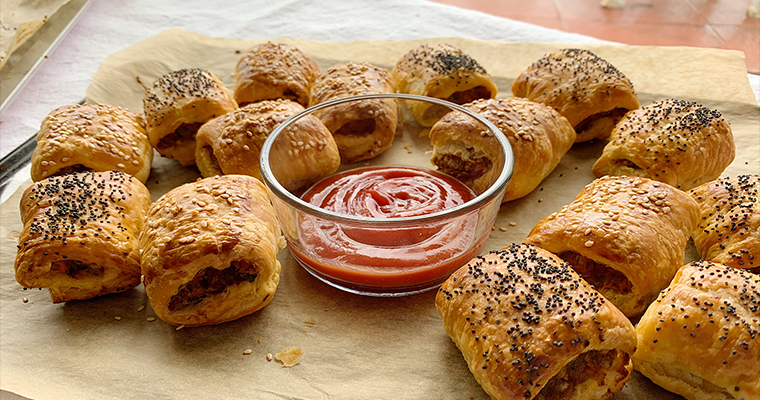 Nothing says game day like freshly baked, homemade sausage rolls. This mouth-watering, family-favourite is making a comeback just in time for Grand Final Day!
Total prep & cooking time: 30 mins
Makes 24 rolls
Ingredients
3 sheets frozen (ready rolled) puff pastry
500g sausage mince (you could also use regular beef mince)
1 cup breadcrumbs (we used panko)
1 medium carrot, grated
1/4 cup parsley, finely chopped
1 tbsp Worcestershire sauce
1 tbsp tomato sauce
1 tbsp barbeque sauce
Small pinch of salt
1 tsp pepper
1 egg, lightly beaten
1 tsp milk
Sesame seeds, poppy seeds, or nigella seeds to sprinkle
Method
Preheat oven to 200°C. Line two trays with baking paper.
In a small bowl, whisk egg and milk together. Set aside.
In a mixing bowl, using your hands or a wooden spoon, combine sausage mince, breadcrumbs, carrot, parsley, Worcestershire sauce, tomato sauce, barbeque sauce, salt, and pepper.
Remove puff pastry from freezer and slice down the middle of each sheet, to make two halves.
Divide the sausage mixture into six portions. Using your hands, roll the mixture into sausage shapes. Place them down the centre of each half, on all three sheets of pastry.
Using the egg wash mix, lightly brush the pastry on either side of the sausage roll. Roll to enclose, placing the pastry seam underneath. Repeat with each other half of the pastry sheets.
Cut the sausage rolls into quarters and place on the lined baking trays.
Brush the top of each roll with egg wash and sprinkle with sesame, poppy and/or nigella seeds.
Bake for 25 minutes or until golden and cooked through
Serve with your favourite dipping sauce.
Find all the ingredients to recreate this dish at home at the following Market traders: