Wednesday, 29th November 2017
Spring Salad with Fresh Asparagus and Cranberries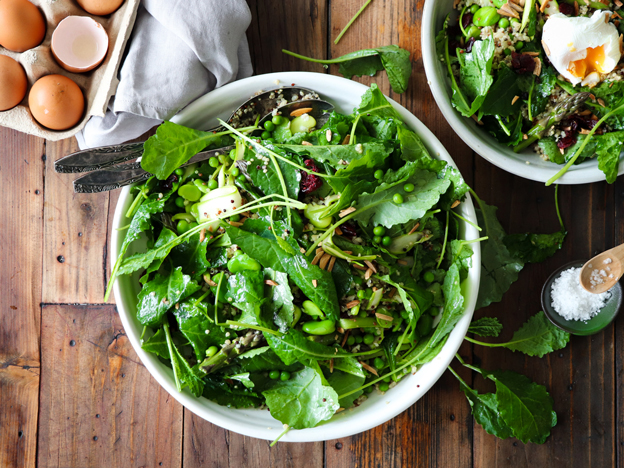 Ingredients
2 cups cooked Quinoa
2 cups cooked Green Rice
2 bunches of fresh asparagus
2 cups of baby kale leaves
1/2 cup of blanched spring peas
1/2 cup of hulled broad beans
1/4 cup toasted slivered almonds
1/4 cup dried cranberries
3 tbsp extra virgin olive oil
juice of 1 lemon
2 tsp honey
1/2 tsp of salt
Poached eggs to serve
Directions
First cut the woody end off the asparagus and discarding before cutting the tops off on a bias and placing into a large mixing bowl. Using a vegetable peeler, shave thin ribbons of asparagus from the middle part and place into the mixing bowl.
Into the same mixing bowl add the green rice, kale, peas, broad beans, almonds and cranberries.
In a small separate bowl make the dressing by mixing thoroughly the lemon juice, honey, olive oil and salt.
Pour the dressing over the ingredients in the large bowl and lightly toss until everything is dressed in the lemon vinaigrette.
Divide the salad into four serving bowls before topping with a poached egg and enjoying immediately.
Notes
This salad requires a little cooking with the rice, quinoa, peas and beans however, the wait is absolutely worth it for this delicious filling yet fresh spring salad.
The salad is easily made vegan by removing the poached egg and replacing the honey in the dressing with maple syrup.
Find everything you need to create your own Spring Salad at the following Queen Vic Market traders.
The Green Leaf (Shed H) – asparagus, baby kale leaves, spring peas, broad beans
Orchard Muesli (Shed A) – slivered almonds, dried cranberries
The Eggporium (Shed I) – eggs
To see more of Lynton's recipes, click here.