Tuesday, 22nd October 2019
Tiramisu by Monica Mignone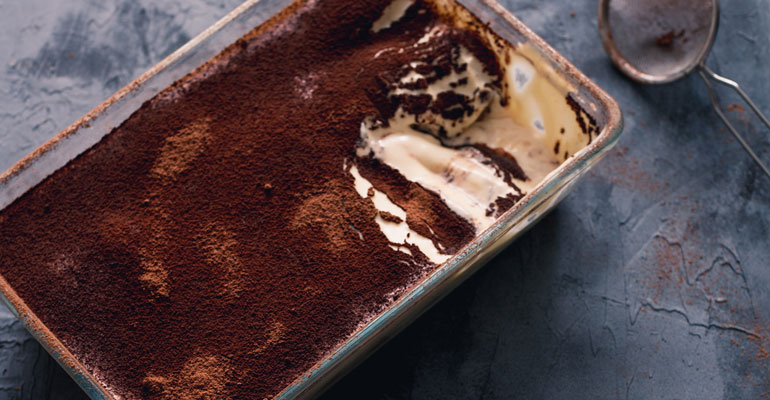 Ingredients
500g mascarpone
¼ cup caster sugar
3 very fresh eggs, separated
2 cups strong espresso coffee
¾ cup Marsala
1 packet savoiardi biscuits
200g dark chocolate, shaved
Dutch cocoa powder to serve
Method
Place egg whites into a small mixing bowl and whisk on high speed until semi stiff peaks form. Set aside.
Place mascarpone and caster sugar together into a medium sized mixing bowl, and using the same whisk attachment as before, whisk on high speed until well combined.
Reduce speed to low and add egg yolks, mixing until creamy.
Gently fold egg whites through the marscapone mixture until well combined.
Pour coffee and Marsala into a shallow bowl and mix to combine.
Take one sponge finger biscuit and quickly dip it into the coffee liquid, making sure it doesn't absorb too much liquid (if it does, gently squeeze it to remove excess liquid), then lay it into a baking dish. Repeat with remaining biscuits until you have covered the entire base with biscuits (make sure you cut cookies to fill in any spaces).
Spread one third of the marscapone mixture over the biscuits and sprinkle with dark chocolate shavings. Repeat until all biscuits and cream has been used.
Cover with cling wrap and refrigerate for at least 3 hours or overnight.
To serve, sift a generous amount of cocoa over the top.