Become a Trader at Melbourne's Marketplace
Impacts from the previous few years has caused many small businesses to pivot, rethink and remodel how they do things. Queen Victoria Market is the ideal low risk, high exposure option to establish or develop small retail business.
Trading since 1878, the Queen Victoria Market provides a low-cost alternative to traditional retail.
View our 'Become a Trader' information pack and see what makes Queen Victoria Market such an attractive location for small business: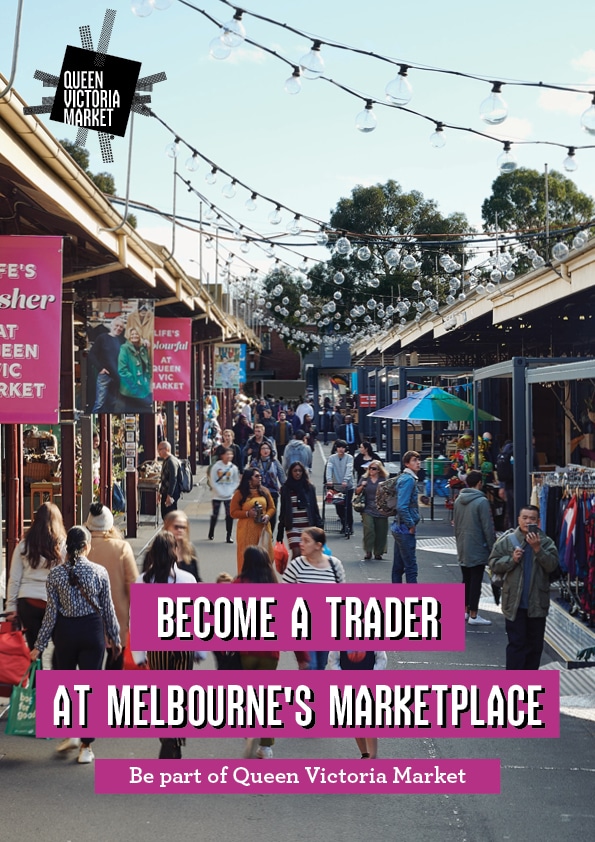 ---
Summer Night Market
The Summer Night Market returns to Queen Vic Market this November for a huge 15-week season from 23 November – 15 March (excluding 21 & 28 December). This season the Summer Night Market will be keeping things fresh with a cool summer vibe, bars serving refreshing drinks for the hot summer nights, and a shopping and food offer to match.
Click here to view our Trader Information Pack, and follow the links to become a food trader or specialty shopping trader at the Summer Night Market.
Applications close on Sunday 4 September.
---
Specialty Merchandise Stalls
Including the open-air stands beneath the Market sheds. Apply here
Food Premises
Including the Food Court and Dairy Hall eat in and take-away premises. Apply here
Fruit & Vegetable Stall
Including stalls in A & B and H & I Sheds. Apply here
Retail Premises
Including String Bean Alley, Victoria Street Shops, F Shed Laneway and Elizabeth Street Shops. Apply here
---
Space for Rent in String Bean Alley
Explore a warehouse-style space, in the heart of Queen Victoria Market, perfect space for warehouse sales and clearances, retail and pop-up events, gallery and art exhibitions, or other creative uses. Click here to learn more.
---
Online Inductions
All successful applicants must complete an online induction before commencing trade.
Please click here to complete your induction.