Queen Victoria Market is on track to achieve its ambitious sustainability target of producing zero carbon and sending zero waste to landfill by 2027.
Most recently available results from the 2020/2021 financial year show Queen Victoria Market has:
met the target to recycle 80% of the Market's waste (up from 65% in 2019/2020).
decreased the volume of waste going to landfill by 848 tonnes compared to the previous financial year.
collected 685 tonnes of organic waste (fruit, vegetables and coffee grounds) which was processed by Yarra Valley Water's waste to energy facility. This returned 165,770kWh of energy back to the grid – enough to power 15,655 houses for one year.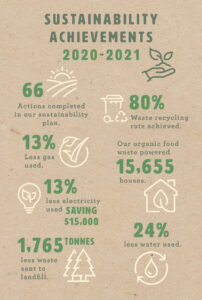 Implementing sustainable practices at the Queen Victoria Market is a complex operation: the Market spans seven hectares, includes almost 600 traders and is the largest open-air market in the southern hemisphere.
Queen Victoria Market CEO Stan Liacos explains that the Market's sustainability success to date has been achieved in partnership with its diverse community of small businesses.
"By implementing multiple layers of sustainable initiatives, coupled with a commitment to trader, visitor and community education, we are well on our way to achieving our ambitious zero waste and zero carbon targets.
"With almost 600 Market traders spanning a complex range of operations, from fresh produce and hospitality to specialty goods, these outstanding results are definitely a group achievement.
"I recognise our traders and visitors who have individually contributed to minimising the Market's impact on the environment to date. From shoppers bringing their own bags and trollies, to traders adapting their systems to minimise waste and energy use, every small action makes a difference," says Liacos.
The Market also acknowledges the operational support from its cleaning and waste contractor Ikon Services Australia to implement these waste reduction initiatives.
In addition to ensuring the iconic city destination continues to be an inspiring place to visit, the Market has made a long-term commitment to reduce its impact on the environment with a number of initiatives:
The Market recycles more than 700 tonnes of cardboard and polystyrene every year.
Offcuts from butchers and fishmongers are turned into pet food at an offsite facility with approximately 560 tonnes of meat and fish waste recycled in a year.
More than 530kg of coffee grounds a month from Market cafés and restaurants are sent off site with the fruit and vegetable waste and converted from waste to energy.
On-site worm farms convert smaller volumes of food scraps into nutrient-filled fertiliser which is then used on potted trees and plants throughout the Market.
Customers can refill water bottles at six fountains located around the Market.
Single-use plastic bags and straws are banned.
Sustainable shopping tours are available for market customers.
Food vendors at Night Markets are required to use biodegradable plates, cutlery and straws.
Balloons are banned at Queen Victoria Market events.
Sustainable shopping tours are available for market customers.
Queen Victoria Market is also proud to participate in Earth Hour 2022 by switching off all lights in the iconic Meat & Fish Hall for an hour from 8.30pm on Saturday 26 March.