Recycling Program
Food organic waste produced by the fruit and veg stallholders comprises a large proportion of the total waste generated on site. Finding a solution for the recycling of food waste is a project that Queen Vic Market has been working on for many years with the fruit and veg stallholders and it is exciting that that the food organic waste produced by these traders is recycled.
The Market's food organic waste is being taken to the Yarra Valley Water Waste to Energy facility that processes food waste into clean, renewable energy.
The recycling of food organic waste complements the Market's extensive recycling program, reducing waste to landfill. The following waste streams are currently being recycled at the Market:
Fat and bone are used in blood and bone fertiliser.
Fish offal is collected and processed for stockfeed and fertiliser.
Paper and cardboard are turned into pulp then used to make paper and cardboard products
Plastic packaging is turned into new products including shrink wrap film.
Timber and steel.
Waste Diverted from Landfill
The Market and our cleaners (Ikon Services Australia) have been working together to reduce our environmental impact through our recycling program. In the year 2020-2021 we:
met the target to recycle 80% of the Market's waste (up from 65% in 2019/2020).
decreased the volume of waste going to landfill by 848 tonnes compared to the previous financial year.
collected 685 tonnes of organic waste (fruit, vegetables and coffee grounds) which was processed by Yarra Valley Water's waste to energy facility. This returned 165,770kWh of energy back to the grid – enough to power 15,655 houses for one year.
Thank you to our wonderful cleaning staff and our traders, together we're working towards a more sustainable market.
Simply Cups Australia
For many, coffee plays a big part in our life. It also plays a big part in the amount of waste we produce, with millions of takeaway coffee cups ending up in landfill each year. Simply Cups is Australia's first coffee cup recycling program, allowing businesses like Queen Victoria Market to close the loop on coffee cups. Used cups are turned into many different products for everyday including outdoor furniture!
Simply Cups recycling stations can be found in the following locations at the Market:
String Bean Alley centreway
Outside the Meat & Fish Hall on Queen Street
Outside the Dairy Produce Hall entrance on Therry Street
Outside the Queen Street toilet block
So when you can't BYO cup or dine-in then make sure you recycle your disposable cup.
Click here to learn more about Simply Cups Australia.
Worm Farms
There are five worm farms located on site. The farms can receive 2kgs of fresh food waste each day which is converted into nutrient-filled fertiliser by the worms, which then goes onto our collection of potted trees and plants around the Market. Worm farms are one of the best ways to provide rich fertiliser that is sustainable, cheap, low maintenance and environmentally friendly.
The worms enjoy fruit and vegetable scraps, tea leaves and coffee grounds, egg shells and shredded, moist cardboard and paper from our traders, but not citrus fruits or meat and dairy – lucky for them there is no shortage of scraps around the market for them to feast on! Visible to all who wander through the Market, the worm farms also aim to promote environmental sustainability to the wider public.
Cheap, odourless and requiring very little maintenance, worm farms are an easy and useful addition to any home. Even the smallest homes can benefit from reducing the amount of waste that goes to landfill by turning a percentage of their food waste into fertiliser that can further help the surrounding environment.
Find our worm farms in A Shed at the Peel Street end.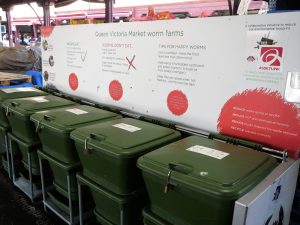 Recycling Coffee Grounds
The Market recycles coffee grounds from our cafes and restaurants. The grounds are collected from our traders and taken with the food organic waste to the Yarra Valley Water Waste to Energy facility that processes food waste into clean, renewable energy.
Recycling Oil Waste
Oil waste from market food stalls and restaurants is collected each year and turned into biofuel.
---
For more information on sustainability programs and initiatives at Queen Vic Market, please contact our Sustainability Manager Kelly Green.