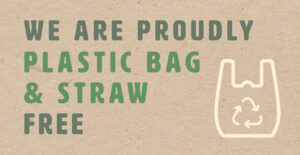 Queen Vic Market is proudly plastic bag and straw free.
We're committed to sustainability and continually improving our environmental impact, and going plastic bag and straw free in May 2019 was a major step in reducing the amount of plastic at the Market.
There's so many ways you can shop without plastic – here's how you can help:
BYO bag, basket or shopping trolley.
Hire a trolley from Market Espresso on Queen Street or purchase a trolley from the hardware shop at the centre way of F Shed.
Buy a reusable Market bag or straw from our Visitor Information Hub or our traders.
Take your Market haul home in a cardboard box, visit our Pick-a-Box locations on Queen Street and I Shed.
What else can I do to kick my single-use plastic habit?
A good way to start is by saying NO to the big four single-use plastics: Bags, straws, water bottles and coffee cups.
By shopping at the Market you're already on your way to saying NO to plastic bags and straws.
Also say NO to bottled water by bringing your own refillable water bottle and fill up at one of the water fountains around the Market.
You can also say NO to a take away coffee cup by bringing your own reusable coffee cup or have your coffee to stay.
If you don't have a reusable coffee cup you can purchase a Queen Vic Market branded KeepCup from our Visitor Hub.
Thank you for supporting our quest to reduce plastic at Queen Vic Market.
---
Reusable products on offer at Queen Vic Market
Many small acts make a phenomenal difference, join the reuse revolution today and shop our Queen Vic Market branded products including KeepCups, jute bags, stainless steel straws and reusable black bags.
Shop the reusable range at our Visitor Hub, located at the bottom of String Bean Alley, or online at Queen Vic Market Online.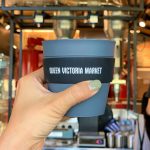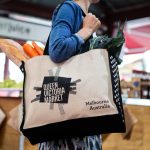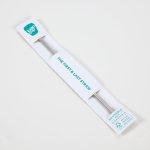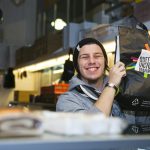 ---
Frequently Asked Questions
Why did Queen Vic Market phase out plastic bags and straws in May 2019?
Queen Vic Market is committed to increasing sustainability at the Market and a big part of this is eliminating the use of non-recyclable materials, such as plastic bags and straws.
They litter our parks and beaches, block drains, endanger wildlife and take up to 1,000 years to break down. In fact, Australians use an estimated 10 million plastic bags and 10 million plastic straws every day, and each year on Clean Up Australia Day plastic is identified as the major source of rubbish throughout Australia.
Made from non-renewable natural resources, the production of plastic straws and bags are a significant contributor to climate change. The simplest way to reduce plastic pollution is to reject single-use plastics, like bags and straws!
What does the ban include?
Common lightweight single-use plastic bags with handles, including biodegradable, degradable and compostable plastic.
Thick plastic bags (like those used by department stores).
Plastic straws.
Why are biodegradable bags and thick plastic bags included in the ban?
Biodegradable bags: Research has found that there is much confusion around whether these are more environmentally friendly than typical plastic bags as they also harm the environment and wildlife. There is also confusion about the claims manufacturers make about biodegradable, compostable and degradable bags; they can be misleading.
Thick plastic bags: The following are some reasons why Queen Vic Market has included thick plastic bags, similar those used by department stores, in the ban.
Thick plastic bags also harm the environment and wildlife.
Thick plastic bags consume more resources to produce and take longer to break down compared to light weight plastic bags.
Thick plastic bags are likely to be used in exactly the same way as light weight plastic bags are currently being used.
Why are plastic barrier bags still allowed?
Plastic barrier bags are still allowed to avoid cross contamination of pathogens from raw to ready-to-eat product when placed together in a shopping bag.
Why should I have to pay for a bag?
Our traders may charge a small fee for a paper bag, which will be at each trader's discretion. Whilst paper bags are a more sustainable option, it's important to remember that the production of paper bags still has an impact on our environment and therefore it's best to get into the habit to remember to bring your own re-usable bags, baskets or shopping jeeps when visiting the Market.
Can I bring in my own reusable container from home for fresh produce?
It is at the trader's own discretion as to whether they will accept your own reusable containers for produce. Please check with your favourite traders.
When will you implement bans on other single-use plastics?
Queen Vic Market is committed to implementing sustainable practices. Banning other single-use plastic items will be an ongoing project for the Market and we will continue to work with traders to find more sustainable alternatives.