Friday, 7th June 2019
Getting to know Nigel from Truffle Melbourne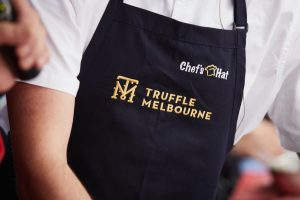 This month we chat with Nigel Wood from Truffle Melbourne to find out how Truffle Melbourne began and what to expect from this year's Truffle Festival at the Market.
Can you tell us about Truffle Melbourne? How did it start?
I have been involved in the truffle industry for many years but what really ignited my idea for a truffle festival was going to truffle festivals in both Spain and Italy. I thought if these tiny towns can host a truffle festival then surely food-mad Melbourne deserved a festival devoted to truffles too.
What does Truffle Melbourne aim to do?
Truffle Melbourne aims to help de-mystify the truffle. There's lots of mystery about truffles, and with good reason; for instance, very few truffieres are sign-posted, as what lies beneath the oak and hazelnut trees can be worth thousands of dollars. Many people perceive truffles as an expensive luxury. Truffle Melbourne is all about the democratisation of truffles. Yes, they are $2500 a kilo but unless you are having a couple of hundred friends over for dinner you only need a truffle worth about $80.00 to generously serve 6 dinner party guests over three courses and you'll still have enough left over to shave over scrambled eggs the next morning. We're a gateway for people to try truffles for the first time and we're here for truffle fanatics too.

What can visitors expect from the Truffle Melbourne pop-up stall?
Market-goers can expect to see plenty of fresh, local truffle from Victoria and Western Australia plus white Bianchetto truffle. We'll also have a stack of truffled products like truffle oil, truffle salt and Truffle Paddock's own range of products including Holy Moly Truffle Aioli and the The King of the Ketchups black truffle tomato ketchup – both great for smearing on a burger or as a dipping sauce. Visitors will also discover a range of truffle honeys and a number of truffle tools too.
What are some of the standout products you'll have available at the QVM stall?
The fresh truffles are stand out products that you can only have during winter, so I'd recommend fresh truffle. The truffled risotto, truffled pasta and imported truffle condiments are also worth trying. Don't forget to look out for the Truffle Truck in C Shed, which will set up shop for most of June, offering visitors a tasty menu featuring pulled pork baguette with truffle jus; truffle fries; gnocchi with truffled mushrooms and heaps more.
What's your favourite truffle dish?
If I had to narrow it down to just one, I'd have to pick the simple pairing of free-range scrambled eggs with a dash of cream and topped with a decadent shaving of fresh truffle. It's a dish that's easy to prepare and perfect at any time of day. If I can sneak in one more favourite dish, it's roast chicken with fresh truffle under the skin, preferably made by Chef Philippe Mouchel but mine's not bad too.
What's something about truffles most people don't know?
Most people don't realise that Victoria is tipped to harvest over 2 tonnes of fresh truffle this winter.
Visit Truffle Melbourne's two-day festival at the Market on Saturday 22 June and Sunday 23 June (more info here).