Thursday, 24th October 2019
Cheesy Chicken Croquette by Tati Carlin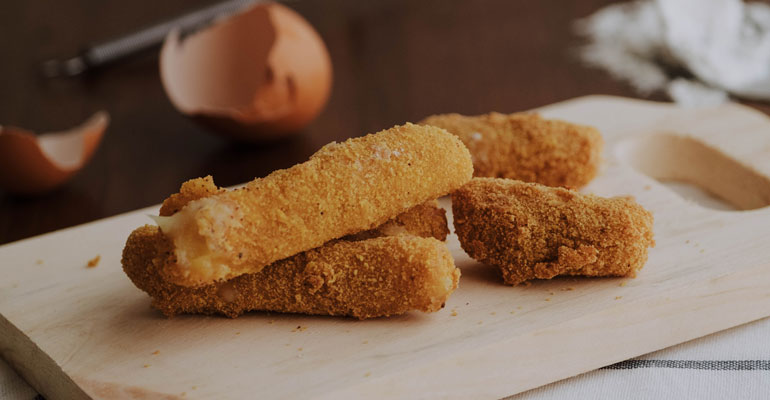 Ingredients:
200g chicken breast
600ml water to boil the chicken
Pinch of salt
1 med sized onion, finely diced
50g unsalted butter
50g plain flour
300ml milk
2tbs chopped parsley
1tsp Dijon mustard
50g grated cheedar cheese
1/3 tsp white pepper
1 egg
2 tbs of milk
2tbs of plain flour
60g of Panko crumbs
Cobram light extra virgin olive oil to fry
Method:
Cook the chicken in the boiling water with a pinch of salt until cooked. Once the chicken is cooked, chop it into small pieces.
Heat up the milk in the microwave for 2 minutes.
Heat up a medium sized wok, melt the butter and add the onion, cook the onion until fragrant. Stir in the flour and cook for about 3-4 minutes. Pour the hot milk little by little and stir until thickened and smooth.
Once the mixture is thickened and smooth, add the chicken, parsley, Dijon mustard and grated cheese. Add a pinch of salt and pepper. Taste the mixture and add seasoning as necessary. Allow to cool.
Meanwhile prepare the egg wash by whisking the egg with 2tbs of milk in a bowl. Place the flour and Panko crumbs on two different plates.
Once the mixture cools down, start breading the croquettes: shape 1tbs portion (approx. 40g) of croquette batter in the shape of a cone and place them on a tray with sprayed baking paper, continue until finish.
Dip the croquettes into flour then dip the croquettes into the egg wash and then roll them in the Panko crumbs.
Chill the croquettes in the fridge for at least 30 minutes.
Before frying roll the croquettes into the breadcrumbs again.
To cook the croquettes: Heat up the olive oil to approx. 180°C, fry them until golden brown, approximately 2-3 minutes. Drain well and place them on paper towels.
You can serve it with chilly mayonnaise.