Monday, 18th October 2021
Food For Everyone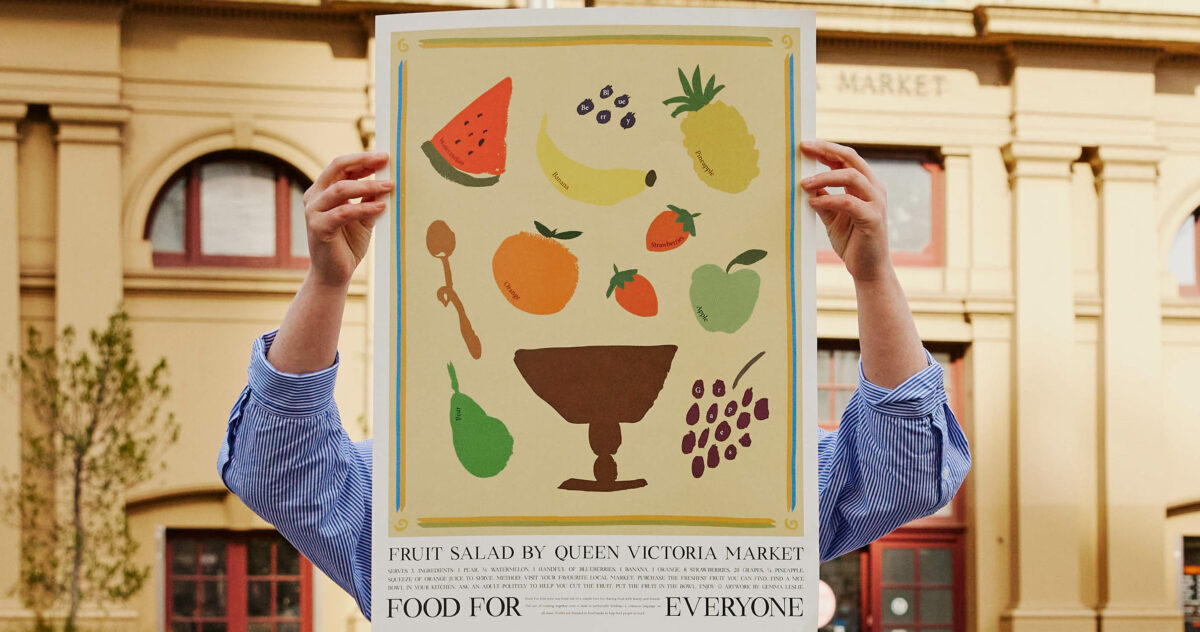 Social enterprise Food For Everyone has teamed up with Queen Victoria Market to create a special-edition 'fruit salad' poster designed for kids (and big kids), donating 50% of all sales to the Market's food rescue partner SecondBite.
The poster celebrates our Market as one of Australia's most iconic fresh produce hubs, as well as creating an opportunity for parents to teach children about healthy eating habits. It also serves as a colourful reminder of the importance of shopping locally.
The collaboration came to fruition when Food For Everyone founder and artist Gemma Leslie sought to create a piece especially for kids after recently having her first child.
Gemma says: "Queen Victoria Market is synonymous with food and the city of Melbourne. The Market is such a wondrous place, especially for kids, and I wanted to capture its lively spirit in the poster. Fruit salad is the perfect representation of Queen Victoria Market and neighbourhood markets. It's a whole lot of colourful characters with delicious offerings, coming together to make something special. On top of bringing a little joy into people's homes, I hope the fruit salad poster helps families talk to their kids about nutrition and the value in eating a variety of healthy, colourful foods. It also opens up a conversation about how the poster provides meals to people in need and the importance of giving back to the community."
The Queen Victoria Market fruit salad poster is available in two sizes (A2 for $100 and A3 for $75) and is on sale exclusively via the Food For Everyone website.
Through SecondBite, the sale of each A2 poster will provide the equivalent of 225 meals to families in need while each A3 poster will contribute approximately 162 meals.
About Food For Everyone
Founded by Melbourne artist Gemma Leslie, Food For Everyone is a social enterprise donating 50% of all profits to food banks across Australia to support people and families in need. Primarily an online poster shop, Food For Everyone was founded in August 2020 launching its first collection of limited-edition recipe posters in collaboration with Julia Busuttil Nishimura, Ellie Bouhadana, Clementine Day and Suzanne Corbett. Following a sell-out success, Food For Everyone partnered with hospitality icons Andrew McConnell, Lennox Hastie, Lisa Valmorbida, and Kay-Lene Tan for its second collection of culinary posters. Food For Everyone helps put food on the table for those in need while bringing a little happiness into people's homes through art.

About SecondBite
SecondBite is one of Australia's largest food rescue organisations. SecondBite works with food growers, manufacturers, and retailers to rescue surplus and unsold edible food that would otherwise be wasted in landfill and distribute it to local charities and non-profits around Australia. These charities run food programs to support people in need in their communities. The food SecondBite rescues is redistributed to vulnerable Australians and is also turned into nutritious meals by several partner organisations.