Monday, 4th November 2019
Getting to know Fiona from the Epicurean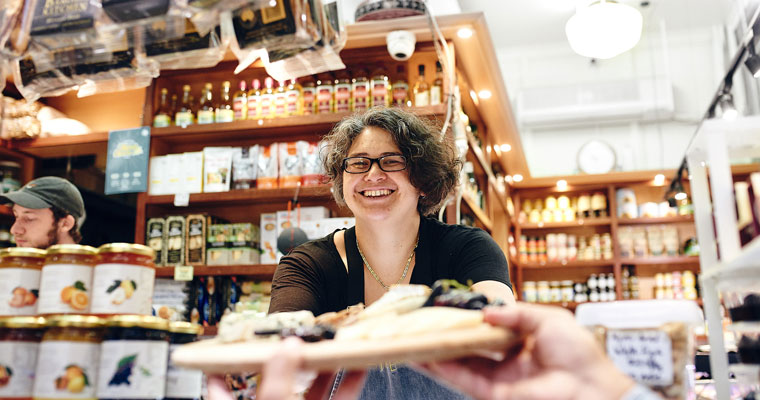 This month we catch up with Fiona from the Epicurean to find out how the Epicurean started and what their typical day at the Market involves.
Tell me about the Epicurean and how it started?
The previous owner established the Epicurean just less than 20 years ago. We were fortunate enough to buy the business three years ago. Gradually we added to our offering and changed only a few things to reflect who we are and our own cultural histories. Our Italian, Spanish and Dutch lines have expanded considerably as well as introducing a small range of Asian staples. Our aim is to have the everyday products that people want each week but to also cater for the interesting, extra special items that impress.
Where we can we like to use small batch producers, people who have outstanding and interesting products that are searching for an outlet. Like Nogo, Nuts 'bout Fruit, Scicilyanu, Truffle Hill, Country Style and others.
What are some of the standout products you sell at the Epicurean?
We have so many standout products. We're known for our large range of truffle products; from oils to meats and cheeses, salsas, salts, aioli and mustard. Our free range nitrate-free meats (especially pastrami), and hand cut ham are super popular.
What is the Epicurean known for?
We have seasonal offerings that come and go and it's this element of experimentation and anticipation that I think stands out. We're often asked what's new this week or what's something different. We're known for spending time with people to make sure that they have a lovely market experience and are really happy with what they have bought when they get home.
Have you always been interested in food?
I never thought about working with food but I've always enjoyed cooking to entertain. Recipes as a family heirloom or a connection to people in our lives past and present have always been very important to me. I have a notebook full of handwritten recipes I will leave to my sons so we are always together.
How do you sell such delicious products and refrain from not eating them all day?
We (all the crew) try everything before we let it in the shop. We discuss if it's the right fit or quality we are happy with. That is about all the eating you get to do. While we are in the shop, it's work but put a charcuterie or cheese board anywhere near me outside of work and look out! Mamma ain't shy!!!
What's the best part of your job at the Epicurean? The worst?
The best part of my job is working with my husband, Luigi, and our two oldest boys, Alessio and Matteo. Also, the shop family we have been blessed with. I can't imagine not having our crew with us.
We all love our customers who we have come to know over the years and look forward to chatting with each week. These relationships are a real gift that helps us grow as people, as well as service providers.
What is difficult is the way your whole life is consumed by the business. You breath it 24/7. For us there are no days off; holidays are for other people. We will get to a stage where we can take a little time but for the next few years we have to be heads down and bums up.
Run through a typical day at the Market?
A typical day is to wake at 4:20am to be at the Epicurean by 5:30am. We set up the shop to be ready to serve by 6am. The day is spent serving and topping up the fridges, placing and receiving orders from suppliers, cleaning and planning for the next day and the week to come. At the end of the day we close the windows and pack down, then run home for dinner and after school activities with our three boys. We help with homework put the youngest to bed then do the bookwork before going to bed around 11pm. Phew,…. Is that my alarm already?!
Why did you choose Queen Vic Market?
I often think the Vic Market chose us or was in our destiny. We had wedding photos here in '98, then I got a part time job at The French Shop where I stayed on and off between children for 15 years before being approached to buy our business.
Anything you wish to add?
We are really proud of the Epicurean and the way it resembles us. It's not perfect, we make mistakes and we are constantly tired. But we give all of ourselves to our crew and together we give all of ourselves to our customers. We don't know any other way. We feel so lucky to be here and are humbled by the wonderful friendships with our customers and other traders. It makes the hard work worthwhile.