Thursday, 20th August 2020
Getting to know Rocco from Market Juice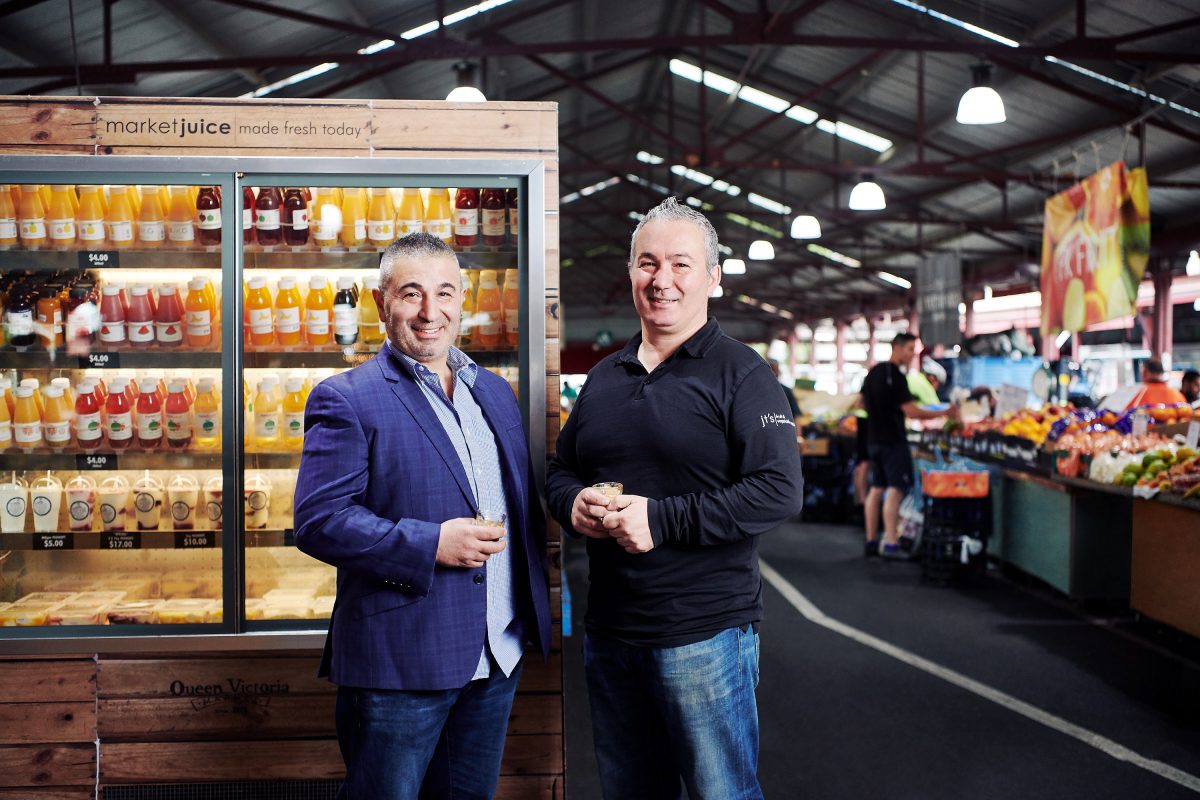 This month we catch up with Rocco from Market Juice – home to the Market's cold-pressed, preservative free range of fruit and vegetable juices. We chat to him about how Market Juice started and some of the strangest juice combinations he's had to make over the years.
What was the vision for Market Juice and how did it start?
Market Juice was established in 2001. Expanding on the family's fruit and vegetable business, we took the opportunity of having access to the freshest local produce. Our philosophy has always been to make juices in the most natural way possible, without the use of artificial sweeteners, preservatives or unnecessary processing.  Our humble beginnings and steady approach has seen us grow into a leading juice supplier to the hospitality industry.  Queen Victoria Market remains our sentimental home, where we continue to offer our juice range to market patrons.
Where is Market Juice made?
Market Juice is cold-pressed at our HACCP certified premises in Broadmeadows. We first began production on-site at the Queen Victoria Market but as the business grew, we quickly realised we needed additional space and machinery to keep up with the demand.
How have you had to adapt Market Juice to become more online-friendly during the pandemic?
We've most definitely needed to take our business into the online sphere, particularly as a result of the most recent restrictions. We offer a home delivery service for fruit, vegetables and our fresh juices. Those who wish to use our service are invited to download our mobile App (JT's | Market Juice) and sign up for an account. We have also partnered with various online providers, thereby expanding our reach.
All of your juices are free from preservatives, colours and added sugars – what are the health benefits of this?
It speaks for itself really. You're getting a wholesome, nutritious product that hasn't been tampered with, which means you're enjoying all the benefits the product can offer. Our cold pressing method also helps to protect and retain the nutrients extracted from the produce.
What's the strangest juice combination that you've ever had to make for a customer?
We get very excited when we're asked to produce wild and wacky combinations. In recent years we've pressed wild rocket juice for an airline customer, lemongrass juice for cooking, purple carrot juice as well as yuzu juice.
What's your favourite juice?
Beetroot apple and ginger, and watermelon, are easily my two favourites – cannot beat either of these with some crushed ice and fresh mint on a warm day. Our lime juice in a Margarita is also hard to beat. You can view our full range of flavours here.
What else do you sell aside from fresh juice?
We retail fresh fruit and vegetables from the Queen Vic Market. We also offer value added products such as fruit purees, fruit salads and platters, yoghurts and processed vegetables. We're always on the lookout for new innovations to offer our customers, with our recent favourite being Truff – a truffle-infused hot sauce.
You recycle everything at Market Juice. Tell us why that's so important to you?
Running a sustainable business has always been important to us. We accelerated our recycling commitment when we partnered with Yarra Valley Water to provide them with our organic waste. This waste is transported to their Waste to Energy facility in Wollert where it is processed into clean, renewable energy. This in turn, helps to reduce landfill and cut greenhouse gas emissions. Our favourite user of our organic waste is Autonomy Distillers who use it to make the most spectacular liqueurs.
We also recycle all of our cardboard produce boxes and reuse them for storage and to pack orders. Our home-delivery customers have also been very diligent in returning their delivery boxes to be reused for future orders.
Anything you wish to add?
We'd like to say a big thank you to all those who have continued to support us during these trying times. Please consider shopping small and local, even after the pandemic is over.
If you live withing 5kms of Queen Vic Market, be sure to visit Market Juice in A Shed any Market day, or download their App (JT's | Market Juice) from the App Store to enjoy home delivery.