Wednesday, 18th May 2022
Winter Night Market Line-Up Announced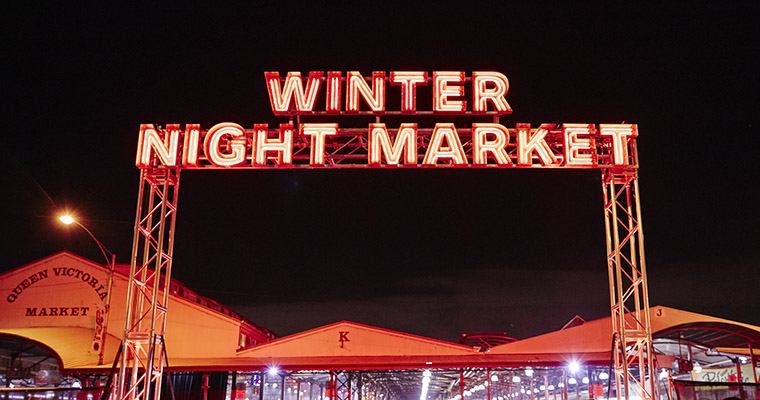 The highly anticipated Winter Night Market is back, every Wednesday evening from 1 June to 31 August 2022.
The line-up of food, beverage and specialty shopping stalls is set to keep Melburnians warm all winter long. The list features more than 35 of Melbourne's best street food traders including a mix of Winter Night Market favourites, city icons and fresh new faces all serving up delicious winter menus.
Returning Favourites
The Cypriot Kitchen: Authentic chicken souvla with feta and oregano chips, Kleftiko (slow-cooked lamb), Kritharaki (risoni pasta with shredded halloumi), charcoal-roasted potatoes and halloumi pockets.
Wonderbao: Steamed bao buns with a variety of fillings: roasted pork belly, coconut braised beef, fried silken tofu with veggies and custard.
400 Gradi: Traditional wood-fired pizzas: margherita, diavola, Romana and funghi.
SMASHVILLE: Completely smashable burgers with shaker fries: double brisket, Nashville hot chicken, southern fried chicken and plant-based patties.
The Black Sheep: Chicken, lamb, pork and falafel platters.
The Soup Factory: Hot tasty soups served in a big bread roll: pumpkin, sweet potato and coriander; Asian chicken and corn; potato and leek; clam chowder and vegan lentil.
Churro Kitchen: Decadent churro bowls with vanilla bean ice-cream and topped with hot Nutella sauce.
The Apple Corner: A winter classic of roasted local chestnuts.
ReWine: Spicy and boozy mulled wine served in reusable and returnable glasses.
Coldstream Brewery: Honey cider, plus a warm apple cider infused with spices.
Melbourne Icons
George the Fishmonger: Lobster rolls, prawn rolls, prawn popcorn, deep fried oysters and Aburi scallops.
That's Amore Cheese: Spaghetti quattro formaggi tossed in a 40-kilogram Grana Padano cheese wheel, plus gnocchi and burrata.
Casa Nata: Portuguese custard tarts.
Son in Law: Fairy floss and sweet cartoon decorated buns.
American Doughnut Kitchen: Irresistible hot jam doughnuts.
Brick Lane Brewing: Revolver Dark Ale, Red Hoppy Ale and Backyarder Crisp Lager.
Winter Night Market First-Timers
M&G Caiafa: Mouth-watering burnt Basque and Biscoff cheesecakes.
Antagonist Spirits: Winter gin & tonic, spiked Milo cocktail, hot gin toddy, and spiced rum.
The Happy Mexican: Pork, chicken, beef and vegan tacos, chilaquiles and charred corn on the cob.
With warming food and drinks in hand, enjoy colourful and unique roving entertainers, or dance through the sheds to your favourite tunes with the Guru Dudu silent disco.
Wander the Market's iconic open-air sheds and laneways and discover a treasure trove of more than 60 of Melbourne's best upcoming and established makers and creators including:
Iris Photo: Turn a photo of your eye into stunning artwork or jewellery.
Japanese Textiles: A showcase of vintage Japanese garments plus traditional Kimono styling.
Victoria Market Gifts & Engraving: Handmade jewellery and custom engraving.
Henna Art: Bespoke Henna design and art.
Anthony Pascoe Caricatures: On-the-spot caricature drawings.
The Winter Night Market heats up every Wednesday night from 1 June to 31 August.
Check out the full line up of traders and entertainment here.
Fast Facts:
• When: Every Wednesday from 1 June to 31 August 2022
• Where: Queen Victoria Market
• Time: 5:00pm – 10:00pm