Wednesday, 30th January 2019
Your Guide to Preparing the Perfect Picnic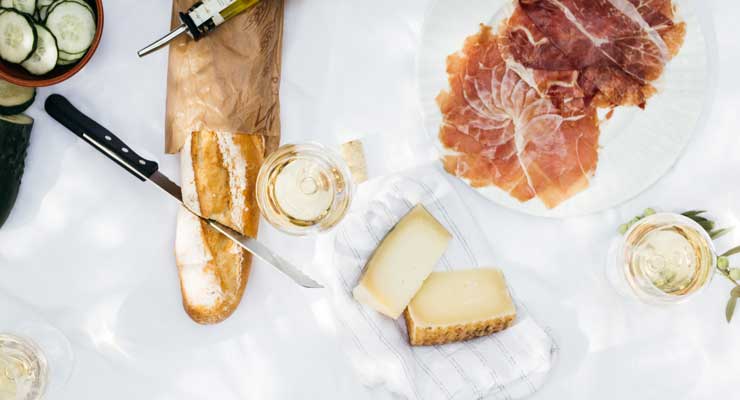 Create the perfect picnic this summer and impress your friends or loved ones with a mouth-watering selection of tasty delights that you can assemble within minutes. From mouth-watering cheeses to delectable cold meats, seasonal fruits, sweet treats and beautiful wine – we've got the ultimate guide to get you started. Now all you need to do is work out where you're going to host it.
Here's what you need:
A picnic basket – or something to hold your plates, glasses, platters and cutlery, preferably with a cooler compartment to keep things cold. Or you could just bring an esky. Don't forget napkins, a bottle of water plus a couples of bags for all your rubbish.
Nibbles
Kick off your market picnic with some tasty starters to snack on. We recommend choosing a couple of dips, around 3 cheeses – soft, hard and blue – and some good quality lavosh. Pop your cheeses on a board and add some fruit such as blueberries, raspberries, strawberries and grapes are our favourites when it comes to cheese. Pair with a nice white wine or a beautiful rosé – whatever tickles your fancy.
Lunch
The key here is to make sure everything can easily be picked up. We recommend sandwiches or rolls or a few pre-prepared salads that can be spooned onto a plate or bowl and served with crusty bread. This is also a good time to indulge in some cold meats, sun-dried tomatoes and olives. Need some salad inspo? Check out some of our recipes here.
Dessert
Sure, you might be full after all that lunch and cheese, but the best part of a picnic is that you get to graze and take your time. When you're ready for dessert, we recommend something simple like a slice that you can pre-make and chop up into a container.
And there you have it. Many of our Market traders can help you out with choosing the prefect ingredients. We'd love to see your picnic snaps. Upload them to Instagram and #queenvicmarket