Monday, 6th June 2022
Exploring unique Winter fruit and veggies
Winter is here, which means aside from sporting your favourite puffer jacket and bracing Melbourne's frosty weather, it's time to start making the most of seasonal market fresh produce! But before you reach for your trusty winter favourites, take a moment to consider some of these slightly quirky fruit and veggies too.  
Find Melbourne's best fresh produce in C, D, H & I Shed. 
Kohlrabi
While it might look like a root vegetable, kohlrabi is actually a member of the cabbage family, identifiable with their long leafy stems that shoot out from the top. This versatile winter veggie has a similar texture to broccoli and boasts a distinct sweet and peppery flavour. Slice it up and add to stir-fries, roast in the oven or hollow out the stems to fill with rice, other veggies and meats before baking. You can also add Kohlrabi to salads, soups and stews.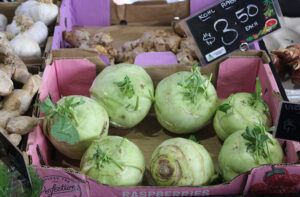 Yuzu
Yuzu boasts the citrus flavour of a lemon combined with the sweet flavour of mandarins. Often used in traditional Japanese cooking, this increasingly popular fruit is the go-to for Asian desserts and drinks but has been gracing menus across Melbourne in all sorts of culinary creations from croissants to crepes and even some savoury dishes. The flavour is often too tart to eat by itself, so if you're cooking with yuzu, extract the juice and rind to use in your cooking.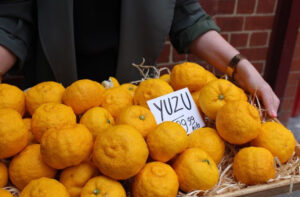 Spaghetti Squash
Also known as vegetable spaghetti, spaghetti squash is the perfect alternative to regular pasta and zucchini pasta (if you're after something a little different). With a similar taste to zucchini, it's ideal for absorbing the flavour of different sauces.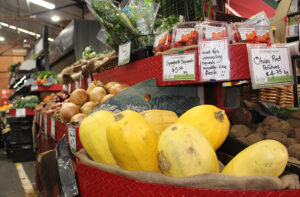 Custard Apple
Don't be scared by its peculiar exterior, custard apple is a decadent and creamy custard-like fruit with a light-coloured flesh. Cut it up and add to a fruit salad or use as an accompaniment to curries or cheeses or serve alongside yoghurt and muesli for a nutritious brekkie option. The best time to enjoy a custard apple is in winter, so make sure you pop one in your market bag the next time you visit.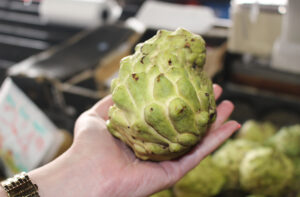 Persimmon
Persimmon boast a sweet, honey-like flavour that is almost a cross between a pumpkin and an apple. Cut it up and eat it on its own or serve as part of a salad. We also love persimmon served with desserts like pancakes and puddings, topped on ice cream – or even added to a pie or tart filling. It's best to eat a persimmon when it's still quite firm.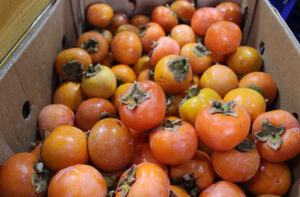 Truffle
One of the most highly coveted delicacies in the world, Truffle is typically available in Australia between May and August. With an earthy aroma that's hard to describe, the flavour varies in intensity depending on how much you're using and the temperature it's being served at.  
Shop the Market for fresh truffles, along with a great range of truffle products including truffle oil, salami, pasta, cheese and more. Click here to see where you can find the best truffle products from across the Market.