Monday, 29th October 2018
Getting to know Garry from Gazza's Gourmet Seafood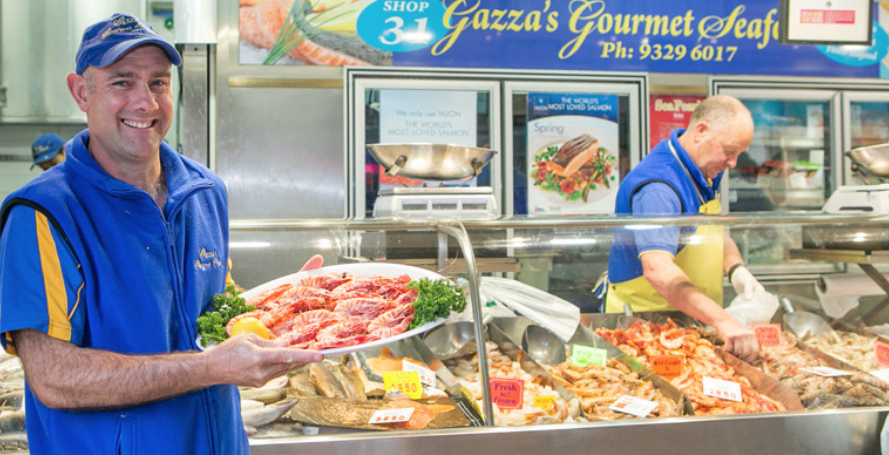 Gary and his popular seafood business Gazza's Gourmet Seafood have been at the Market since 1995. Proudly specialising in Australian and New Zealand fish, Gary has become an expert in the area and is known for his filleting skills. We chat to him about his business and find out what you really need to know when purchasing seafood.
What is some of the standout seafood that you offer at Gazza's Gourmet Seafood?
I house a variety of Australian and New Zealand seafood, particularly prawns from around Australia. I mostly specialise in skinless and boneless fillets which people can take home and cook without having to do any further preparation.
You source a lot of Australian seafood – can you tell me why this is important to you?
I source all my seafood from Australia and New Zealand because I want to provide the freshest, highest quality seafood. Most of my fresh whole fish and fillets are sourced from Victoria, Tasmania or New Zealand. I believe that our local, cool water varieties of fish are the best in the world. Australia and New Zealand also have very strict quotas on catches, so the fish is harvested in sustainable amounts.

What should customers think about when they're buying seafood?
People should be mindful of where the fish they are buying was caught. If they don't know they should ask their fish monger. Make sure you find out how the fish was caught. Line caught fish will generally have a longer shelf life than net caught fish due to stress on the fish and the ability of the fishermen to handle the fish better due to smaller quantities. Look for fish with clear eyes and red gills. Prawns should have clear shells and no sign of any black coloration around the legs. They should also be whole and not broken.

Can you tell me about your popular rock lobster?
Rock Lobster has become extremely popular for Christmas dinners due to the often hot weather in December. Most of my Rock Lobster comes from around Warrnambool in Western Victoria and Mount Gambia in South Australia. Fresh lobster will be more readily available after mid-November when all of the lobster fishing areas are open.
What's your favourite seafood dish?
I don't really have a favourite seafood dish. I will generally take the best variety available on the day. Variety and supply changes from day-to-day, so we have to be a bit flexible with our recipes.
What do you sell the most of?
I sell many tonnes of prawns every year, starting with banana prawns (great for paella or curry ) for around $15 per kg, right up to the huge Leader prawns which sell for around $50 per kg.
Why did you choose Queen Vic Market?
I chose the Queen Victoria Market because of its location and vibrant and bustling atmosphere. It's also nice to work at an Australian icon that's famous all over the world.
Check out Gazza's Gourmet Seafood here.