Construction on the Market's new and revitalised Food Hall has commenced!
Expected to open in the second half of 2022, the redevelopment of the Food Hall will provide a new social destination within the Market. More than just a place to grab a bite to eat between shopping, the new Food Hall will showcase Melbourne's unrivalled foodie culture, complete with space for customers to relax and soak up the great market atmosphere.
There will be eight fresh food and drink offers with a diverse range of cuisines including coffee and sandwiches, modern Asian and Sri Lankan, tacos and burritos, American-style barbecue, Spanish fare, pastries and sweets, cocktails and craft beer and more!
A place to eat. 
A place to meet. 
A place to relax & enjoy the market atmosphere.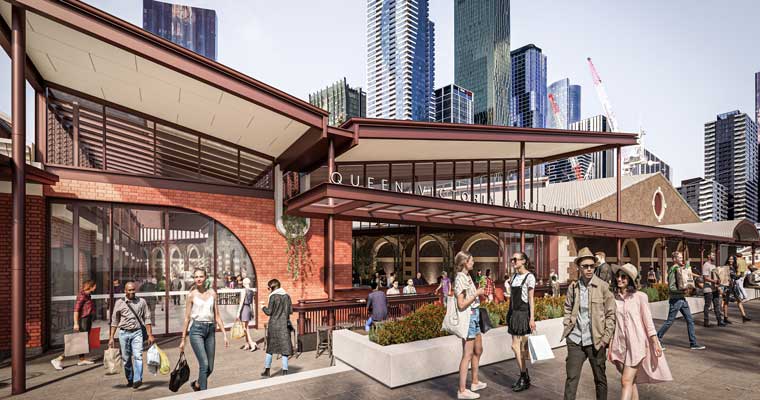 Looking for something to eat & drink?
While construction is underway the existing Food Court will be closed. Queen Victoria Market has plenty of food and drink options across the market including in the Dairy Produce Hall, F Shed, Victoria Street, Elizabeth Street, Therry Street and String Bean Alley.
About the works
Through the Queen Victoria Market Precinct Renewal Program, we are creating a new Food Hall that will be a centrepiece of the Market – contributing to the overall visitor experience and creating a welcoming and vibrant indoor dining destination while improving connections to the rest of the Market.
As with any construction project there will be short-term disruption and changes to the way you access the area. For your safety, please be patient and follow the signage, as well as instructions of traffic controllers. Construction will be occuring:
7am-5.30pm Monday to Friday
7am-3.30pm Saturday
Pedestrian access
The work area will be fenced off for the duration of construction and pedestrians will be diverted around the site. Please take note of signage on temporary fencing to assist with safe pedestrian access and be mindful of changed conditions.
Parking
There will be some changes to parking arrangements on Queen Street between 6am-9.30am on market days to enable operation of a trader loading zone in front of Sheds C to F.
Changed traffic conditions
The east side of Queen Street in front of the current Food Court will be closed.
Changes to traffic conditions in Queen Street with all through traffic via the west side of Queen Street
Weekdays between 6am-9.30am, market traders will load/unload in front of sheds C to F. There will be a slightly different traffic route during these times.
Construction vehicles will enter and exit the site from Queen Street.
Traffic controllers will be on site as required to manage vehicle and pedestrian movements. For your safety, please be patient and follow the instructions of traffic controllers.
View the works notification here.