Easter Grilled Seafood Platter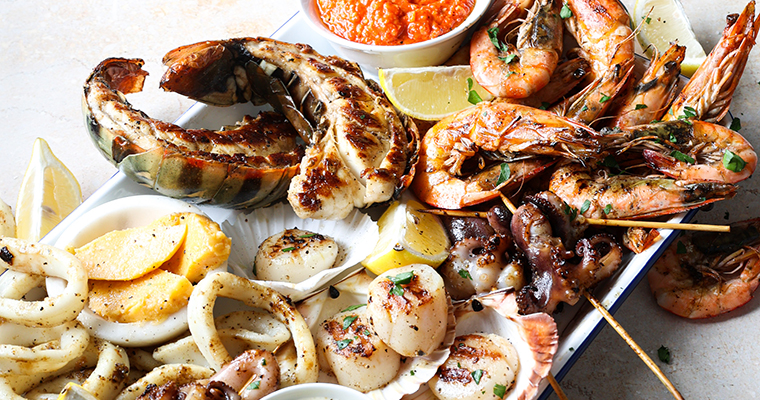 With Easter fast approaching, we've partnered with The Delightful Cook for an absolute showstopper for your dining tables. Follow along as we prepare the perfect grilled seafood platter filled with fresh prawns, calamari, baby squid, lobster tails and scallops, and accompanied with a homemade romesco sauce, lemon aioli and garlic butter. The best part? All of the ingredients can be sourced from our wonderful traders at Queen Vic Market.
Click here to see The Delightful Cook in action preparing this Easter feast, and browse the ingredient list and methodology below.
Garlic Butter Ingredients
1 cup of unsalted butter, softened
1 tbsp garlic, minced
½ cup grated Parmesan cheese
½ tsp ground paprika
Salt and pepper to taste
Methodology
Step 1. Combine soften butter, cheese, garlic, paprika, salt and pepper into a bowl and mix with a fork to combine well. Adjust seasoning to taste.
Step 2. Pour garlic butter into parchment paper and roll into a cylinder, rolling the ends to secure in place. Place into the refrigerator to set until serving.
Step 3. To serve, slice into rounds and place over warm grilled seafood.
Romesco Sauce Ingredients 
3 red peppers/capsicums
1 head of garlic, sliced in half
300g sliced raw almonds
1 tsp smoked paprika
½ cup extra virgin olive oil
Salt and pepper to taste
Methodology
Step 1. Preheat oven to 180c/350f. Place red peppers/capsicums and two halves of garlic into a baking dish. Bake for 35-40 minutes, until charcoal and soften. Once soft, remove the skins, stem and seeds and discards. Slice into strips and add to a food processor.
Step 2. Squeeze out roasted garlic into the food processor and discard the skins. Add sliced almonds, paprika, olive oil, salt and pepper and blitz until just combined. You want the mixture to be mixed well with a slight crunch.
Step 3. Serve alongside warm grilled seafood.
Lemon Aioli Ingredients 
½ cup mayonnaise
2 garlic cloves, minced
3 tbsp lemon juice
Zest of one lemon
Salt and pepper to taste
Methodology
Step 1. In a small serving bowl, add mayonnaise, garlic, lemon juice, lemon zest, salt and pepper. Mix until combined and adjust seasoning accordingly.
Step 2. Serve alongside warm grilled seafood.
Seafood Ingredients
300g Baby Squid
300g Calamari Rings
200g King Prawns
200g Tiger Prawns
2 Lobster Tails, sliced in half
12 Scallops, shells reserved for presentation
1 cup extra virgin olive oil
Salt and pepper to season
2 lemons, sliced into quarters for serving
Methodology
Step 1. Ask your fishmonger at the Queen Victoria Market if you are unsure how to clean baby squid and cut your lobster tail. Different types of seafood cooks at different times, so best to cook them one at a time to ensure everything is cooked well.
Step 2. Add a generous amount of olive oil to the seafood and season accordingly with salt and pepper.
Step 3. On a BBQ or a grill pan over high heat, cook the seafood in batches according to the below timings:

Baby Squid: 4 to 5 minutes, until the ends curl and are cooked through
Calamari Rings: 2 to 3 minutes, until opaque
King Prawns: 2 to 3 minutes on each side
Tiger Prawns: 2 to 3 minutes on each side
Lobster Tails: 6 to 8 minutes, until cooked through
Scallops: 1 ½ minutes on each side, until opaque in the centre

Serve grilled seafood platter with freshly cut lemon slices.
Buon Appetito!