Father's Day at Queen Vic Market  
With over 143 years of history, Queen Vic Market has been home to hundreds of small, family-run businesses in Melbourne for generations. To celebrate Father's Day, we caught up with the Dads of our Market and spoke to three of our many family businesses to hear what it's like working side-by-side with their loved ones.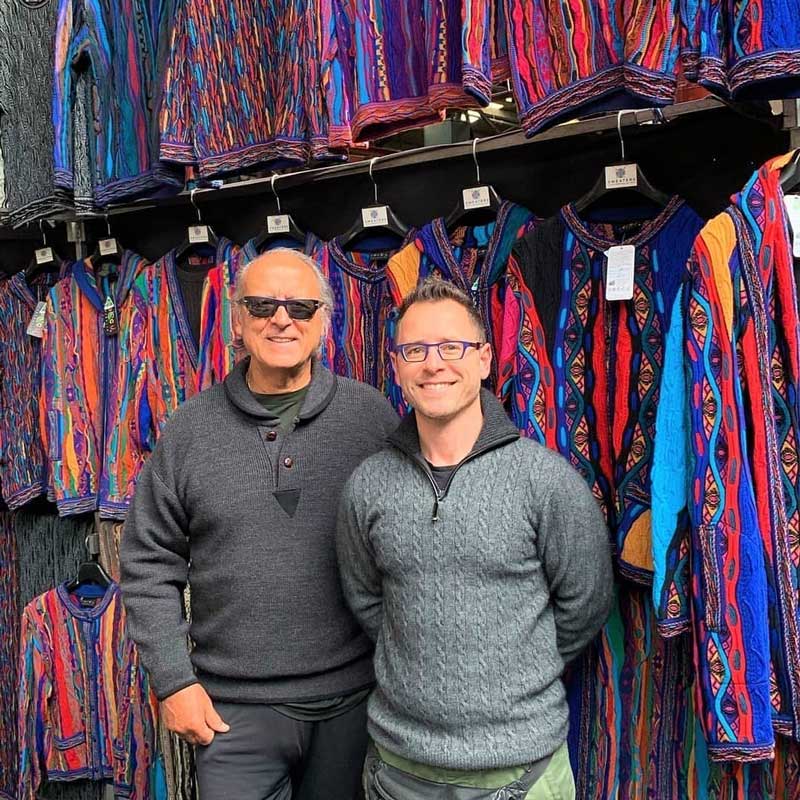 Ariel and Lior Gabizon – Sweaters Australia
As a second-generation migrant family, Lior has been helping his father, Ariel, with the family business since he's been old enough to work. With over 40 years' experience trading at Queen Vic Market, Ariel and Lior have established a beloved brand amongst Melburnians and visitors alike.
After helping his dad for many years as a kid, Lior left the family business to pursue his own career.
"I was a stockbroker for 15 years but a few years ago, my father had an accident at home," Lior explained.  "I left my career and came into the Market to work with my father."
"Every time customers come to Melbourne, they visit the Market. People see my father and me working together, and they remember me as a kid helping my dad; then as a teenager helping my dad and now me in my mid-forties. Our customers are happy to support the family business. It gives them a sense of being part of the family."
"Trading at the Market, we meet a lot of people. You develop lifelong relationships with customers when you get to know them."
Ariel and Lior have been familiar faces at the Market for many years, with no plans of leaving anytime soon. "
"As parents get older and we get older the entire experience of working together is a good memory. I'm proud to be following in his footsteps."
Meet Ariel and Lior at Sweaters Australia, located in J Shed.
Stan and Luke Graczyk – Eggporium
The Eggporium is run by three generations of the Graczyk family, with a fourth generation already showing a keen interest in the ethical egg business. The Eggporium takes pride in its family values and partners with family farms that share similar values.
For business owners Stan Graczyk and his son Luke, the focus is on supporting family businesses, working with the family to share and learn from each other and creating a sustainable business for generations to come.
"We provide a secure and good working environment for our family, promoting good morals and ethics about how to treat a business and how to treat people coming to the business," Stan says.
"My grandchildren love to come and visit the Market. They have a great time, just seeing what we're doing."
"We're all into eggs, chooks and farms, and we all visit the farms that we deal with. It becomes a circle of family business, family ethics, and family caring for each other."
"We try to teach our kids to trust people and do the right thing by people for not only the long-term relationships in business, but for friendship. The friendships that you gain from customers is part of the family business too."
"That's the benefit of the Market, and why people shop here. You develop these friendships with your customers; you start knowing their names and their kids.  You learn a lot from different people."
You can find Stan and Luke at Eggporium every Market day in I Shed.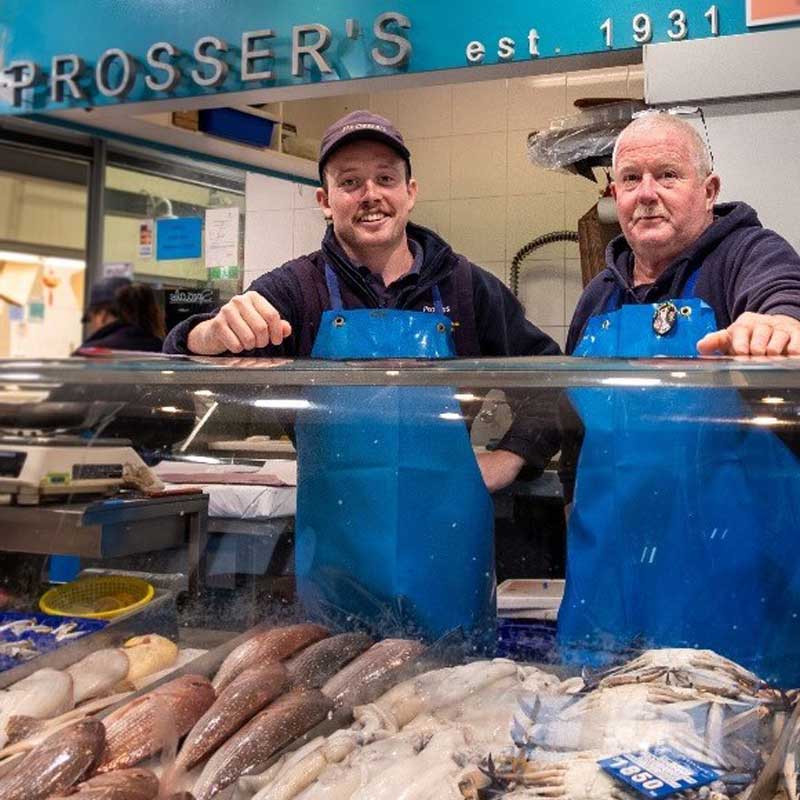 Geoff, Damien, James and Ned Prosser – Prosser's Seafood
Geoff and his cousin Damien are third generation fishmongers, taking over the family business from their fathers. Geoff's son James and Damien's son Ned can be seen at Prosser's Seafood working alongside their dads.
"It's been all cousins and nephews; they've all done their time at the Vic Market over the years. I've been there forty years; Damien hasn't been there quite as long … but we've both worked there our whole lives!"
On whether working with family has made his business stronger, Geoff believes it creates a trustworthy workplace.
"They've got a vested interest in it for sure. You can trust each other, if you're not there or you have the day off, you know everything is in good hands."
"Trust is one of the most important things. We're reliable, we're trustworthy and we all  get along."
James has followed in his father's footsteps, working at Prosser's Seafood for over eight years between studying three degrees. With the onset of COVID-19 in 2020, James has spent more time working with his father.
"My favourite memory working my dad is during Christmas," James said. "The whole family is there, too."
"I actually first started working there during Christmas many years ago, during the peak time for our business. I would always go in and help out a little bit when I was young and they needed and extra set of hands."
"Dad taught me the importance of looking after your customers, so they keep coming back. You want to look after them and give them the best product and experience you can."
Shop Prosser's fresh seafood every Market day in the Meat and Fish Hall or shop online and enjoy home delivery.