Queen Victoria Market Launches Wholesale Tuesday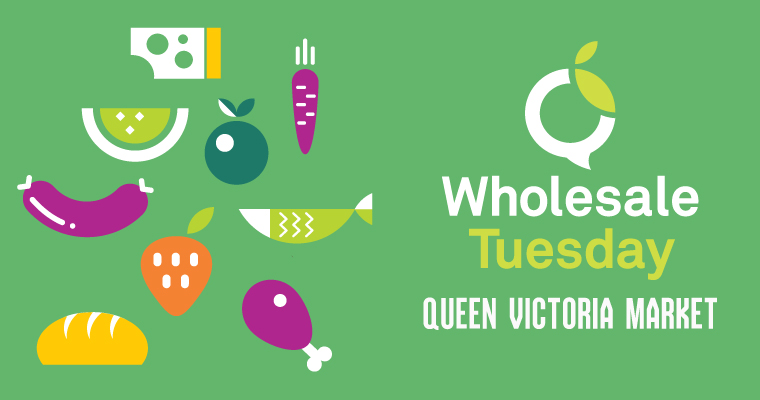 Introducing Wholesale Tuesday, a dedicated day every Tuesday for chefs, caterers, restaurant owners and other hospitality business operators to visit Queen Victoria Market to establish supplier relationships and connect with the Market's network of experienced traders for expert advice and wholesale deals. 
Building upon the well-established wholesale service at the Market, 27 traders are participating in this initiative. These traders offer a unique, face-to-face service with competitive pricing through bulk-purchase and wholesale-only offers for small business owners.
Wholesale Tuesday allows businesses to not only source high quality market produce, but also access a wealth of knowledge and seasonal insights from the Market's specialist traders.
Queen Victoria Market CEO Stan Liacos said the market is proud to further support wholesale business as a valuable sales avenue for fresh produce and specialty food traders.
"Wholesale business traces right back to the very foundations of our city market and it continues to be an enduring part of Queen Victoria Market's history," Mr Liacos said.
"A broad range of traders have long-standing wholesale experience supplying to hospitality operators and Wholesale Tuesday serves to profile and support this important aspect of market business.
"Offering insight from traders with an in-depth knowledge of food, product and provenance, Wholesale Tuesday represents a one-stop-shop for small businesses looking for quality produce coupled with a convenient, personable and reliable service."
A diverse range of produce is available for wholesale purchase at the Market including fresh fruit and vegetables, herbs and spices, artisan bread, hard-to-find cheeses, antipasto, smallgoods, specialised meat cuts, eggs, seafood, speciality tea and coffee.
City of Melbourne Lord Mayor Sally Capp said Wholesale Tuesday was a fantastic way to build more connections and relationships between the city's hospitality scene and the iconic market.
"This initiative enhances what makes shopping at Queen Victoria Market great: outstanding service, top-quality produce, and unique local and international foods," the Lord Mayor said.
"Importantly, Wholesale Tuesday is a terrific example of how Queen Victoria Market traders and city-based businesses can mutually support each other while contributing to the critical recovery of Melbourne's hospitality industry."
Queen Victoria Market traders invite chefs, publicans, caterers and hospitality business operators to strike up a conversation and find out how they can support their business, the wholesale deals they can offer, and which produce they recommend on a weekly basis, from seasonal produce in peak quality to unique specialty products. The ability for wholesale customers to view and taste produce coupled with expert guidance from market traders adds another layer to the personalised service.
Mark Scott from Bill's Farm in the Market's Dairy Produce Hall says with restaurants, cafes and hotels opening back up again, Queen Victoria Market offers very competitive pricing and the biggest range of produce:
"The great thing about Wholesale Tuesday is that hospitality operators can source everything they need at the Market: meat, fish, fruit and veg, and deli all in one place and in small or bulk quantities."
Wholesale Tuesday reduces the need for small businesses to engage with multiple external suppliers with the Market offering the full breadth of fresh and specialty produce. With free 30-minute parking available for wholesale customers at the top of C Shed, it's a convenient and flexible offering for hospitality providers.
Wholesale customers can identify participating traders at Queen Victoria Market by looking for Wholesale Tuesday signage at each stall and reviewing the list of traders and their areas of expertise online here.