Wednesday, 20th November 2019
Ceviche of Scallops, Octopus & Snapper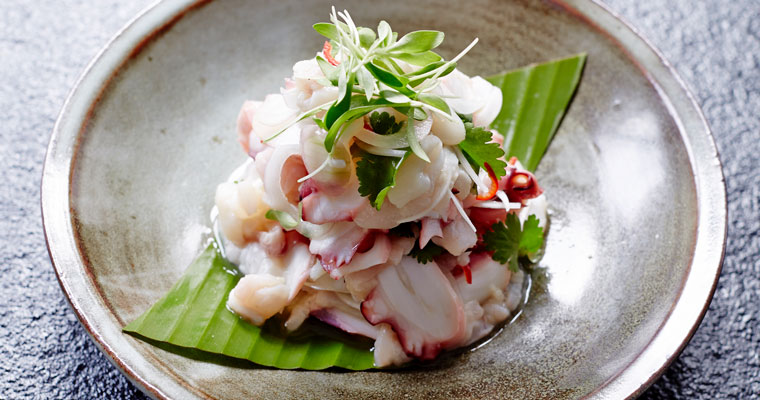 The perfect addition to your Christmas feast, learn how to prepare ceviche of scallops, octopus and snapper with chilli and lime.
6 fresh scallops
2 octopus tentacles
200gm skinless boneless snapper fillet
1 shallot, finely sliced
½ bunch coriander, washed and chopped coarsely
1 punnet coriander cress, snipped
Dressing
1 lime, juiced
1 lemon, juiced
½ orange, juiced
Method
Wash the scallops in a bowl of cold salted water to make sure there is no sand on them.  Remove the tough muscle of the side of the scallop with a small knife and then slice the scallops into 5 thin strips with the grain of the fibres. Refrigerate.
Wash the octopus tentacles well under running water and peel the skin off them starting from the thickest part.  Place them in a large wide saucepan of with 100ml of water and a big pinch of salt, cover with a lid and cook on a low heat for 45 minutes so they are firm but tender.  Remove from the saucepan and chill in the fridge.  Once cold slice the octopus diagonally across the grain.
Slice the snapper fillet in half lengthwise and then slice across the fillet in 3mm slices.  Place back in the fridge.
Place the sliced scallops, octopus, snapper, shallots & coriander in a bowl and toss with the citrus juices.  Let sit for 5 minutes for the juices to start to cure the seafood.
Place in a bowl or on a platter and top with the coriander cress.
Image credit: Chris Middleton