Getting to know some of the Dads of the Market
With over 145 years of history, Queen Vic Market has been home to hundreds of small, family-owned businesses in Melbourne for generations. In honour of Father's Day, we caught up with some of the Dads of the Market to hear what it's like working closely with their loved ones.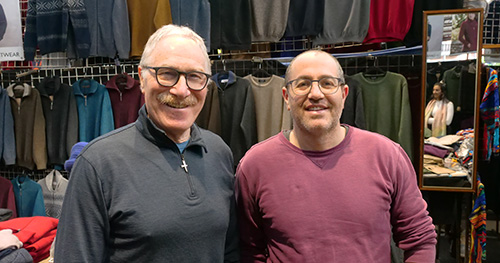 With over 45 years' experience trading at Queen Vic Market, Danny and Ariel Lewin have developed a much-loved brand of knitwear amongst Melburnians and visitors from all over the world. As a second-generation migrant family, Ariel has been helping his father, Danny, with the family business since he was just a teenager.
"I've been working with dad for 25 years, but I've been coming here since I was a young boy. I have a lot of good memories from the 80s," Ariel shared. "My favourite one was being squashed in a van, with my dad and grandfather driving home from the Market."
Danny adds, "Every family has a different dynamic and with us, we were fortunate that it worked. We complement each other. It suits us great, but it might not suit everyone else."
"Ariel has taught me a few things – to be more patient and to be able to get on with new technology. Without him, I wouldn't be able to tackle it."
"I've learnt so many things from my dad – being positive and kind have been the traits my parents have instilled in me and my brothers and sisters."
Meet Danny and Ariel in K Shed, Stall 4-5
Can't make it to the Market? Shop Danny's Knitwear online and enjoy home delivery.
---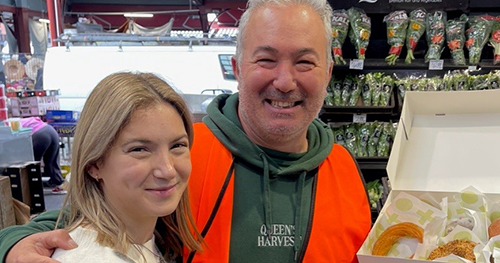 Growing up surrounded by his entrepreneurial parents, Rocco has always enjoyed the closeness that comes from working in a family-run business. With the help of his daughter Annmarie, Rocco runs Queen's Harvest, offering customers a wide variety of fresh fruit, vegetables and specialty items.
"It's great that I can rely on her, trust her, go out and have a coffee without worrying. I'm confident that she can look after the shop while I'm away."
Annmarie believes she has learnt a lot from her dad.
"He's taught me about hard work, dedication and even business tips like how to sell and how to communicate with customers."
"Being in a family business can be difficult but it can also be really rewarding. It's worth putting the effort in to work with family; however, it's important to remember that the relationship comes first, the business comes second, and everything will flow from there," Rocco says.
Meet Rocco and Annmarie in D Shed, Stall 5-12
Can't make it to the Market? Shop Queen's Harvest on Queen Vic Market Online and enjoy home delivery.
---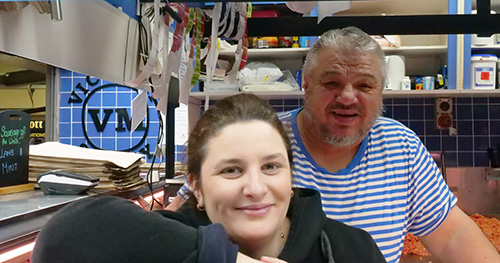 With four generations at Queen Vic Market, Terry has been at Vic Meat Supply since he was old enough to work. He's joined by his daughter, Sally, who continues to keep the vibrant family-owned business thriving.
"This shop has been handed down through generations and I think it's just going to keep going," Terry shares.
"We get along, we're family. We have our arguments but we're still close. There are times where her partner also comes in and that's the way it is, it's family."
Sally has worked closely with her father to create and trial new products to cater to the different needs of their customers.
"Everything is constantly evolving, and we continue to learn together. If we trial new product ideas and we don't like it, that's fine. But if we love it and people do as well, that's great."
Terry adds, "We've become more tolerant of each other, helped each other out because after all, we're human. We make mistakes."
Meet Terry and Sally in the Meat & Fish Hall, Stall 8.
Can't make it to the Market? Shop Vic Meat Supply on Queen Vic Market Online and enjoy home delivery.