Friday, 7th June 2019
4 of the best places to check out for truffle specialties this June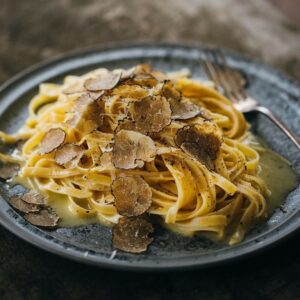 This year's Truffle Melbourne festival will be even bigger and better than before, so we thought we'd give you some pointers on where to find some of the most delicious truffle products and tastes available in our Dairy Produce Hall. We've got everything from triple cream truffle brie and washed rind truffle cheese to truffle infused honey. You'll also find truffle and ricotta ravioli available and lots more. Read on for 4 of the best places to check out for truffle specialties.
The Traditional Pasta Shop
Dress up your winter pasta dish with the Traditional Pasta Shop's mouth-watering truffle and ricotta ravioli. Known for their delicious offering of homemade lasagna and filled pasta varieties, their newest truffle ravioli is sure to impress. Our suggestion? Grab a bottle of wine and settle in with your loved one for an evening of decadence.
Bill's Farm
Visit Bill's Farm and you'll find a stack of tasty truffle cheeses, but our pick this year is the Cheese Rebel Truffle made with 50% imported Austrian cows' milk and 50% Australian cows' milk – it's delicious. You also can't leave without going past the Cheese Rebel triple cream truffle brie. It's so incredibly creamy – you'll be thinking about it all day.
Pavilion Select Produce
If you have a soft spot for European cheeses, you'll love Pavilion's truffle cheddar. It's the perfect addition to a winter cheeseboard, but also so incredibly flavourful that you can enjoy it all by itself. These guys also have a mouth-watering Spanish truffle manchego that is worth a try too.
The Epicurean
These guys know a thing or two when it comes to cheese and given truffle season is just around the corner, they've definitely got the goods when it comes to truffle products. You'll find a plentiful offering of Truffle Hill lines including truffle oil, honey and even aioli. Visit for the Truffle Gouda by Boe'rn Trots Honing in the Netherlands – a creamy goat cheese with a rich flavour that you can only get from The Epicurean. Run, don't walk.