Sunday, 31st January 2021
Valentine's Day at Queen Vic Market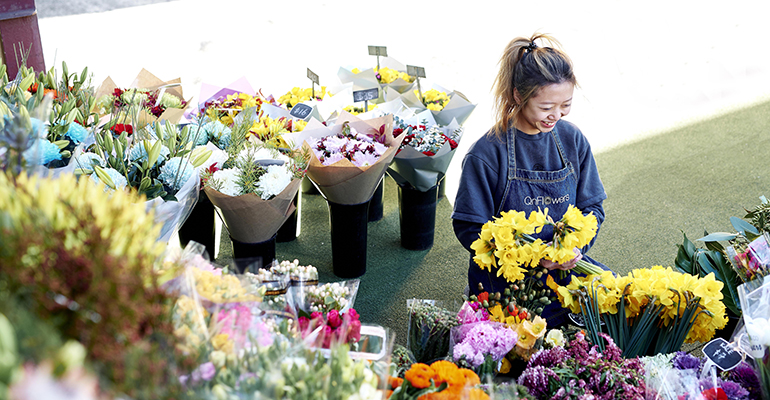 Stop by Queen Vic Market this Valentine's Day and pick up a little something special for the one you love.   
There are so many great gift ideas, and here are a few suggestions to help get you started:  
Soyful Soaprises: for a stunning range of handmade soaps and beautifully scented bath bombs. 
Bunneys Natural Skincare: for natural and organic skincare that is handmade in Melbourne. 
Books for Cooks: for cookbooks and recipe ideas for a romantic night at home. 
Wendy Voon Knitwear: for gorgeous handmade and tailored women's clothing. 
Parlour: for stunning fragrances and locally made candles. 
The Hemp Superstore: for a range of men's grooming products, hemp candles, skincare and even chocolate.
Collective Closets: for designer-wares and fashion accessories. 
Henry Pop-up Cards: for personalised 3D pop-up cards. 
Aleppo Style: for cotton and silk scarves. 
Inner Essentials: for 100% naturally-made rubs and balms. 
Bruce Goose: for quirky and colourful socks. 
Petal Melbourne: for Australian-made beauty products. 
The Hat Project: for a great range of summer hats and accessories.  
The Market is also home to three florists overflowing with abundant blooms.  And let's be honest, nothing says 'I Love You' more than a gorgeous bouquet, right? Visit Joe Leuzzi Flowers on Therry St, QN Flowers in String Bean Alley or Folia House at the top of Victoria Street. 
If you're looking to wine and dine your partner this year, make sure you stop by: 
RIPE Cheese: for their beautifully curated Valentine's Day Cheese Box, packed in a heart-shaped wooden box. Only 20 available so pre-order yours today.
Swords Wine: for local wine, beer and bubbles. 
The Corner Larder: for a great selection of specialty cheese and curated cheese boards. 
Hellenic Deli: for Hellenic inspired deli goods, especially olives. 
Dianne's Delights: for dips and homemade dolmades. 
ReWine: for sustainably packaged Australian wine including Prosecco, Rose, Pinot Noir and much more.  
Bill's Farm: for local cheese and grazing platters. 
American Doughnut Kitchen: for their famous hot jam doughnuts. 
Koko Black: for artisan chocolate and sweets. 
M&G Caiafa: for freshly baked croissants and pastries. 
George the Fishmonger: for fresh local seafood including oysters, prawns and crayfish. 
If you cannot make it to the Market, why not try ordering a ready-to-go fruit & veg box, grazing platter or fresh oysters delivered to your door with Queen Vic Market Online. Click here to shop now.  
Queen Vic Market Tours: Explore the Market this Valentine's Day and join us on our famous Ultimate Foodie Tour. On our guided tour, you'll wander through the heritage-listed Market food halls and visit some of the Market's finest traders, indulging in an abundance of food as you go. The two-hour tour includes generous tastings, $5 Market voucher, Market shopping bag and a coffee voucher. Book now!